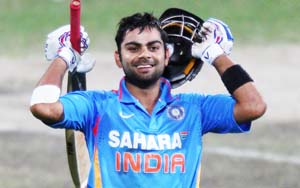 Former Indian all-rounder Ravi Shastri said that Virat Kohli should replace MS Dhoni as skipper of the national side in both ODIs and T20Is. According to India Today reports. the popular cricket commentator, who was Team India manager up until the culmination of the 2016 World T20, is of the opinion that the time has come for Dhoni to step aside and let Kohli handle the reigns.
Kohli has been in unbelievable form in 2016 with the 27-year-old breaking records galore since the turn of the year, especially in the T20 format. The stupendous run of form has drawn comparisons with the great Sachin Tendulkar and Shastri feels that the Delhi cricketer can be successful in the shorter formats as a skipper as well.
Kohli replaced Dhoni as India's Test skipper in late 2014 with the latter stepping down midway during India's tour to Australia. While the wicketkeeper-batsman also called time on his Test skipper with that decision, Shastri feels that Dhoni will have a lot to contribute as a player, even if Kohli is made the captain.
"By no stretch of the imagination, you are taking anything away from Dhoni. He can still contribute massively as a player. I think the time has come for Dhoni to enjoy himself and enjoy the game," Shastri told India Today Television.in. "(At the) end of the day, it is about how hungry Dhoni is, how passionate he is."
Shastri feels that Kohli, who has for long been earmarked as a future Indian skipper ever since leading the Indian U-19 side to World Cup triumph in 2008, has gained enough experience and maturity to handle the reigns of Team India in all formats.
"You have to see where India is going to go three years down the line. There are no major events in three years when you are back with the world cups. So, this is your best time to think and build. Also, the time has come where you have a guy whom you have groomed over a period of time. Kohli is ready," Shastri said.
Shastri wants India to adopt the Australian way of thinking
Shastri feels that India's upcoming cricket calendar is ideal for a change in guard and added that tough decisions needed to be taken in the larger national interest.
"India will hardly play any One-day cricket in the next 18 months and the gaps between Tests and ODIs are massive. So, here's your time to look ahead and see what you can do with an Indian side all round three years down the line. If I am the chairman of selectors, I would be thinking in that fashion. No question about that. Virat is ready to lead in all formats. It's a hard decision, it is a catch 22 but like I said, I would be thinking from now on," he said.
"The game has to evolve, hard decisions have to be taken but such is life. And nothing wrong in that, it is in the interest of Indian cricket. Down the line if you think Dhoni is still the best captain, keep him as captain. But the issue here is the breaks and do you have a guy ready. So, my answer is you have a guy ready," he added.
Shastri urged the Indian selectors to follow their Australian counterparts with regards to how younger cricketers have been given the opportunity to take over the mantle of the national side, even with the former skippers continuing as a member of the playing eleven.
"Australia have set great templates over the years. Mark Taylor still had two-three years of captaincy left but they made Steve Waugh the captain. When Waugh came down to the finishing line, two years left, came Ricky Ponting. People thought Ponting will carry on but then Michael Clarke. Even Clarke had to give way to Steve Smith," he said.