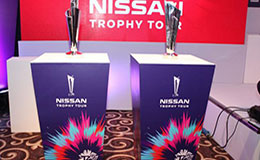 Kolkata: Delighted by the warm welcome in the city of joy, Shahid Afridi divulged words of respect and his love for the Indian fans. He also praised the Indian cricket team and the Indian soil for the love that he has received from it. The Pakistani captain along with his team landed in Kolkata for the upcoming ICC World T20, 2016.
According to media reports, Afridi said, "India are playing very good cricket. If you look at last game against us in Asia Cup, Virat Kohli and Yuvraj Singh did really well. There are very less nations where I've enjoyed cricket as much as I've enjoyed cricket in India." He also added in the last stages of his career; he would always cherish the love that he has got from Indian fans.

The comments were quite in contrast to what he said about India in 2011 when he said that Indians would never have hearts like the Pakistanis. His words also attacked Gautam Gambhir who dedicated the ICC World Cup win to the victims of 26/11 Mumbai attacks. Today, the Indians must be pleased to see Afridi's transformation of feelings towards India.
Meanwhile Shoaib Malik, Afridi's teammate who is married to Indian tennis player Sania Mirza, commented: "I am very happy to be in India. I always get a lot of love. I am honoured to be in India". He also added that he was happy to see the tight security protection that they received from the Indian government.
Initially the match between India-Pakistan was scheduled to take place at Dharamsala on March 19. However, due security reasons and protests in Himachal, the match has been shifted to Eden Gardens Kolkata on the same date.
So, let's wait and watch out the big clash between Dhoni's men and Afridi's team on Saturday, March 19, live from Eden Gardens, Kolkata.