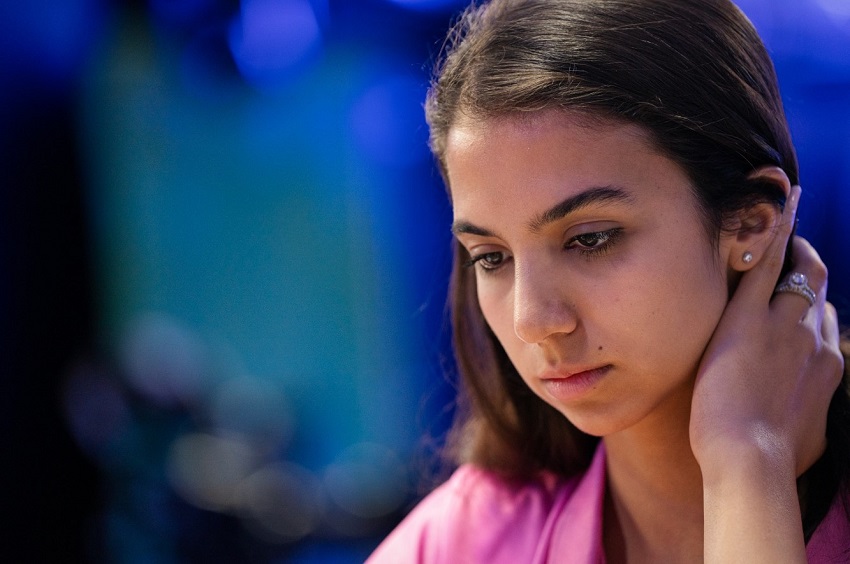 Dubai: Amongst the many riveting stories that have cropped up from the inaugural Global Chess League, a joint venture between Tech Mahindra and FIDE, none have been more significant than that of Sara Khadem. A late entrant into the tournament from the reserve bench for Grandmaster (GM) Nana Dzagnidze to becoming the champion of the inaugural season with the Triveni Continental Kings is nothing less than a fairy tale.
The International Master and Women's GM Sara, came in as the stabilizing factor for the Kings when the team lingered at the bottom of the table and helped them push through the last few rounds to enter the final. She finally held off Harika Dronavalli in the sudden-death Blitz encounter to give her team a chance in the final after losing her first two boards to the Indian ace.
Having won the championship in one of the most entertaining fashions, Sara opened up about her experience at the Global Chess League in a candid conversation.
Speaking about the league Sara said, "I loved everything about the league and enjoyed every moment of it. I was there from the beginning as a reserved player, it was a true joy to see such a tournament happening. I have never experienced this much excitement during a chess tournament. The way we won the league is something that I will remember for the rest of my life. It was the most dramatic play-off match. I believe both teams deserved to be there and I'm really glad that we could manage to win in the end."
She also spoke about how it was to be a part of the team in between the league. She said "To be honest, the chances of playing in the league seemed very odd to me. But obviously, I was hoping to be part of it as a player and I'm glad I got the chance. I would say I wasn't mentally ready for it but the whole team was so nice that I immediately got the motivation to give it my best and we fought every match that we played."
Amongst all her opponents, Sara stated it was the most difficult to play against Indian GM Harika Dronavalli whom she faced in the final. "The most difficult opponent for me was Harika. We had played lots of games before and she has never been an easy opponent to play with. She's strong, motivated and hardworking. The games of the final day weren't going in a good direction for me but I'm glad I could hold on to the game in the most important one where I had to play the sudden death," she added
Sara was also captivated by the Indian talent on display at the league and said, "India has the most promising team when it comes to the young talents. There was a huge competition between the Iranian and Indian young generation so I know all the players very well. I saw the list of the Indian team for the upcoming Asian games this morning. the way they support them and let them be part of the team in such an important event and not just focusing on the results is an essential thing that India does for its future."
Finally, she stressed the fact that Global Chess League is going to make the chess ecosystem more equitable. "I always thought chess has more potential when it comes to the sponsorship and the organization. I believe the Global Chess League was a huge step to reach the goals we all have for creating a better environment for chess players and viewers. Before it wasn't so easy to take chess as a profession but all these events can be a good motivation for the players to just focus on chess and it will also bring a lot more people into the chess world," she concluded