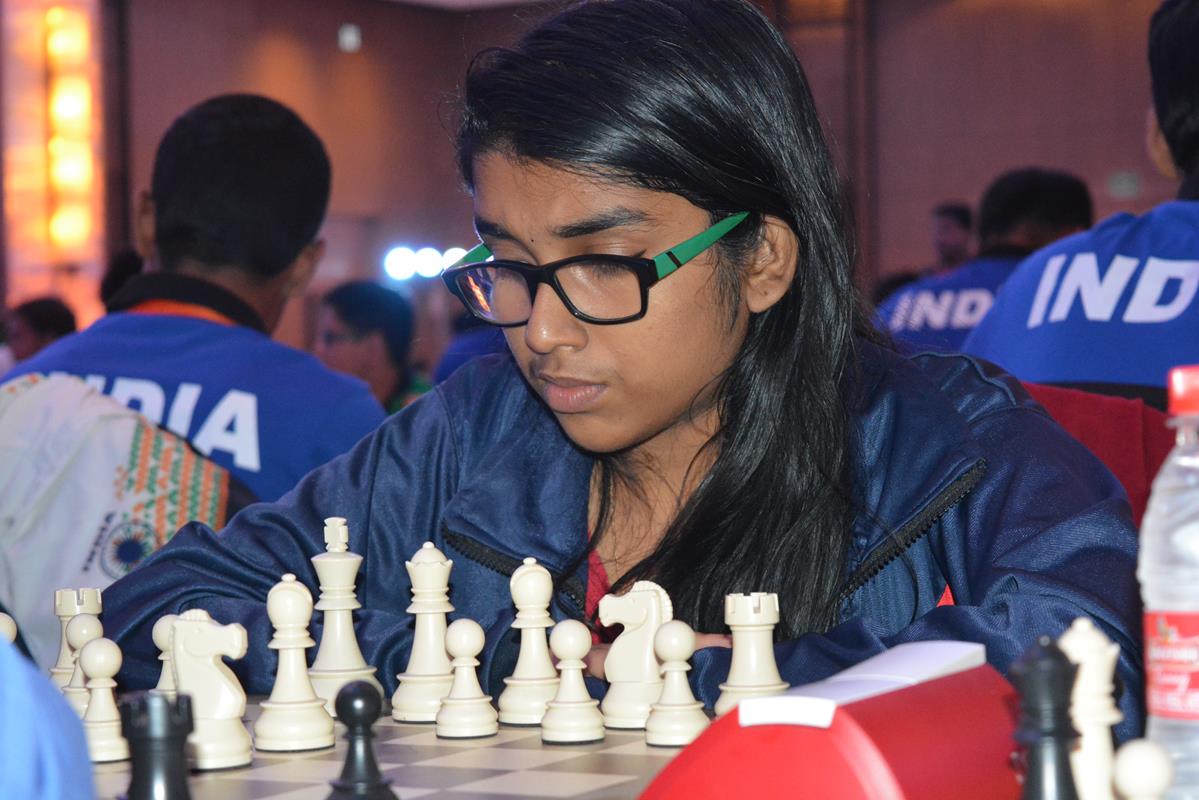 Top three boards in the third round ended without decisive results paved the way for fifth seed Grandmaster Vishnu Prasanna and sixth seed Debashis Das along with five others to share the lead with perfect score in the Commonwealth Chess Championship which is progress at Leela Ambience Convention Hotel hereon today.
Playing with black pieces in Ruy Lopez game, Deep Sengupta settled with half point against former national champion International Master G Akash while Grandmaster deepen Chakkravarthy and national champion Grandmaster Lalith Babu were forced to split the point against Sammed Shete and International Master Ratnakaran respectively. Debashis Das maintained his clean sheet after beating Koustav Chatterjee while Vishnu Prasanna outwitted Niranjan Navalgund.
In a major upset of the day, Meghna CH stunned former national champion Abhijit Kunte. Playing white side of Kann variation of Sicilian defence game, Meghna used her minor pieces to good effect in the middle game to register a memorable win in 38 moves.
In other important encounters, newly crowned national under-13 champion Aaryan Varshney held Grandmaster Swapnil Dhopade. Sambit Panda and Arpita Mukherjee made their second consecutive draw against Grandmasters as they held Thejkumar and Sundarajan Kidambi.
Important Results Round-3 (Indians otherwise specified) :- IM Akash G (2.5) drew with GM Deep Sengupta (2.5); Sammed Jaykumar Shete (2.5) drew with GM Deepan Chakkravarthy (2.5); GM Lalith Babu MR (2.5) drew with IM Ratnakaran K (2.5); Niranjan Navalgund (2) lost to GM Vishnu Prasanna (3); GM Debashis Das (3) beat Koustav Chatterjee (2); Aaryan Varshney (2.5) drew with GM Swapnil Dhopade (2.5); IM Karthik Venkataraman (3) beat IM Watu Kobese of South Africa (2); IM Karthikeyan P (2.5) drew with WGM Mary Ann Gomes (2.5); Moksh Amit Doshi (2.5) drew with IM Mohammad Nubairshah Shaikh (2.5); IM Nitin S (3) beat WIM Nandhidhaa PV (2); GM Laxman RR (3) beat FM Thilakarathne GMH of Sri Lanka (2); GM Praveen Thipsay (3) beat WFM Lakshami C (2); WFM Meghna CH (3) beat GM Abhijit Kunte (1.5); GM Vaibhav Suri (2.5) beat Rajesh Nayak (1.5); GM Thejkumar MS (2) drew with Sambit Panda (2); Mahitosh Dey (1.5) lost to IM Visakh N R (2.5); Ranveer Mohite (1.5) lost to Tejas Bakre (2.5); Arpita Mukherjee (2) drew with GM S Kidambi (2); Sankalp Gupta (2.5) beat WFM Divya Deshmukh (1.5); IM Siva Mahadevan (1.5) lost to Jubin Jimmy (2.5).