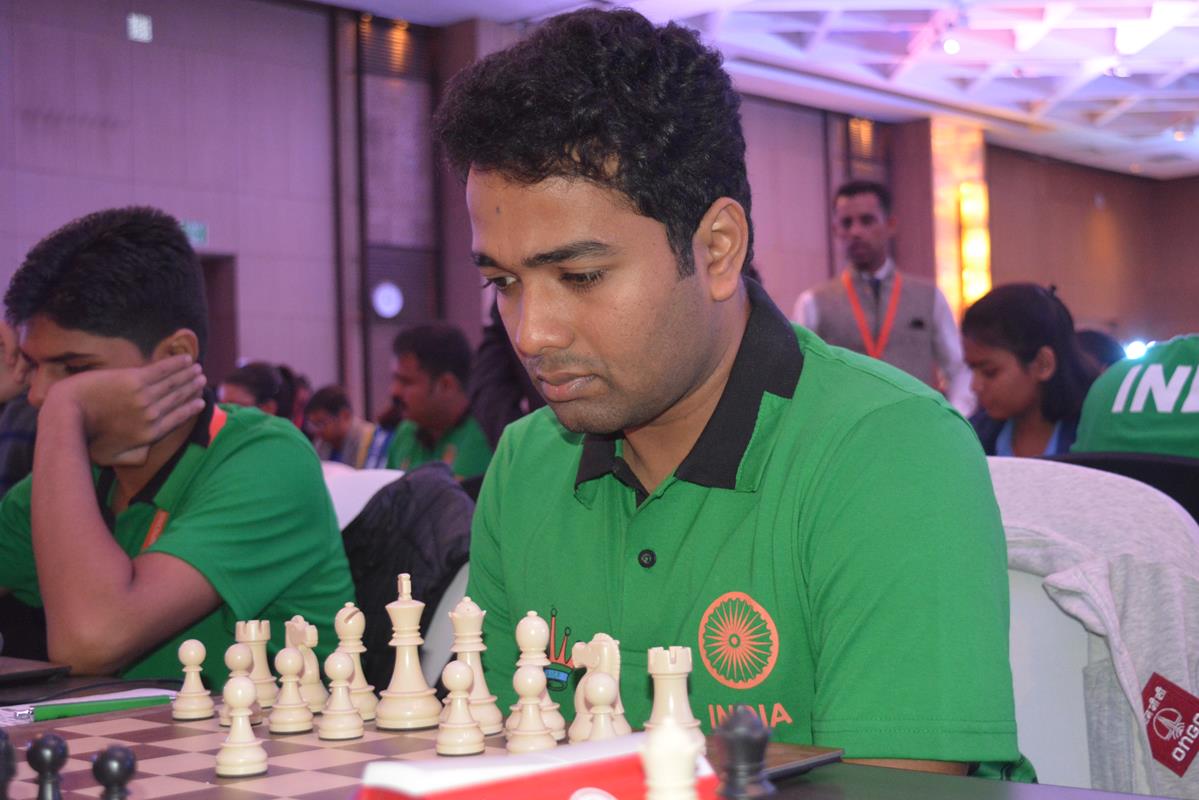 Odisha youngster Sambit Panda held second seed and local favourite Vaibhav Suri in the second round of the Commonwealth Chess Championship now underway here at Leela Ambience Convention Hotel on Wednesday.
In other upsets of the day, Kerala lad Jubin Jimmy held at Grandmaster Thej Kumar and former national champion Grandmaster Abhijit Kunte forced to sign the peace treaty with Ranveer Mohite while Grandmaster S Kidambai and International Master Visakh NR satisfied with half point with Priyanka K and Arpita Mukherjee respectively.
Meanwhile top seed Deep Sengupta beat Shantanu Bhambure and Grandmaster Deepan Chakkravarthy defeated Sakshi Chitlange without much struggle. National champion Lalith Babu MR outwitted Baivab Mishra.
25 players are maintaining the perfect score at the end of round two.
Important Results Round-2 (Indians otherwise specified) :- GM Deep Sengupta (2) drew with Shantanu Bhambure (1); Sambit Panda (1.5) drew with GM Vaibhav Suri (1.5); GM Deepan Chakkravarthy (2) beat WIM Sakshi Chitlange (1); Baivab Mishra (1) lost to GM Lalith Babu MR (2); GM Vishnu Prasanna (2) beat CM Ben Magana of Kenya (1); FM Arvinder Preet Singh (1) lost to GM Debashis Das (2); GM Swapnil Dhopade (2) beat Isuru Alahakoon of Sri Lanka (1); Jubin Jimmy (1.5) drew with GM Thej Kumar MS (1.5); GM Abhijit Kunte (1.5) drew with Ranveer Mohite (1.5); Arpan Das (1) lost to Karthik Venkataraman (2); IM Visakh N R (1.5) drew with WFM Arpita Mukherjee (1.5); GB Joshi (1) lost to IM P Karthikeyan (2); IM Mohammad Nubairshah Shaikh (2) beat Bala Kannamma P (1); Sreeshwan Maralakshikari (1) lost to IM Nitin S (2); WIM Bagyashree Thipsay (1) lot to GM Laxman RR (2); GM S Kidambi (1.5) drew with Priyanka K (1.5); WGM Kiran Manisha Mohanty (1) lost to GM Praveen Thipsay (2); Samriddhaa Ghosh (1) lost to IM Akash G (2); IM Ratnakaran K (2) beat FM Venkata Krishan Karthik (1); WCM Nityata Jain (1) lost to Sammed Jaykumar Shete (2).