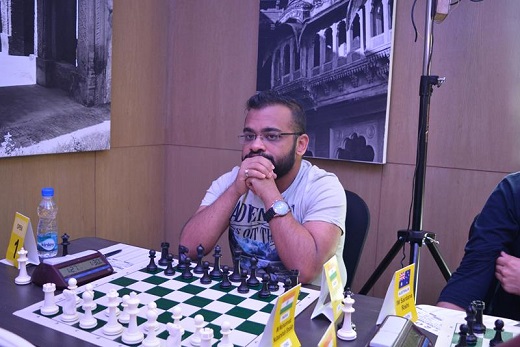 New Delhi: Grandmaster and defending champion Abhijeet Gupta came roaring back in contention with back-to-back victories in the fourth and fifth round of Commonwealth Chess Championship now underway here.
After a rather easy draw with Nubairshah Sheikh in the third round, Gupta came up with some outstanding performance on the fourth day that had double rounds. In the morning, Grandmaster Niaz Murshed did not prove a match for the wily Indian while the peaceful intentions of GM Ankit Rajpara also received a jolt in the fifth round.
Grandmasters Swapnil Dhopade and Vaibhav Suri played out a draw on the top board and these two were joined by Gupta, Aravindh Chithambaram and Tejas Bakre in the lead on 4.5 points out of a possible five.
Chithambaram was in his elements as he halted the dream run of K Priyanka while Tejas Bakre played a fine game with black pieces to beat fellow Indian GM Sahaj Grover.
Gupta was up against the Fianchetto variation in the Grunfeld defense and chose a solid setup giving little away to Rajpara. The opening saw repetition of moves in the early phase of the game saw Gupta spurning an unconditional draw offer and the defending champion was in full flow on the queen side to hand Rajpara his first defeat in the event.
Chithambaram went for the Sicilian Dragon as black and was in top shape while Bakre capitalised on some middle game errors from Grover to register his fourth victory.
Among the women players, former Asian champion Bhakti Kulkarni and Swati Ghate remained on course for a podium finish with another impressive show after losing fourth round games. Bhakti proved superior to International Master Rishi Sardana of Australia while Ghate outwitted higher rated Erigaisi Arjun. Both Kulkarni and Ghate are leading the women's section on four points apiece.
Results round 5: Swapnil S. Dhopade (4.5) drew with Vaibhav Suri (4.5); Ankit R. Rajpara (3.5) lost to Abhijeet Gupta (4.5); K Priyanka (3.5) lost to Aravindh Chithambaram (4.5); Sahaj Grover (3.5) lost to Tejas Bakre (4.5); Ziaur Rahman (3.5) drew with M Chakravarthi Reddy (3.5); Abhijit Kunte (4) beat Indrajeet Mahindrakar (3); Aradhya Garg (3.5) drew with Deepan Chakkravarthy (3.5); Abdullah Al Rakib (3.5) drew with V Pranavananda (3.5); C Praveen Kumar (3) lost to Shardul Gagare (4); Swati Ghate (4) beat Rishi Sardana (3).