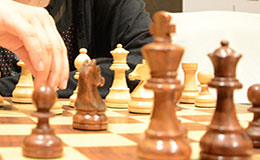 New Delhi: Grandmaster and defending champion Abhijeet Gupta will be vying for a hat-trick of titles when he takes his chair in the first round of the Commonwealth Chess Championship beginning on Monday here at the Leela Ambience and Convention centre.
To be inaugurated by honourable sports minister Vijay Goel, the championship has over 550 registered players in various categories spanning from under-8 till open. At the last count, there are 16 Grandmasters and 13 International Masters in the fray apart from five more Woman Grandmasters.
The open section will be really strong this time with over 50 titled players out of around 120 participants. The event will provide ample opportunities for the norm seekers from the host country.
The women challenge will be spearheaded by defending champion Tania Sachdev but she is expected to get stiff resistance from the likes of national champion Padmini Rout.
Players from 15 countries including some from South Africa and Kenya have registered for the nine-day long events that will decide the medallists of this year's championship.
This is the first time ever that the championships will be played in 15 different categories. While the Indian players are likely to dominate there is stiff challenge coming from Bangladesh in the open section wherein they have fielded as many as four Grandmasters.
The ride for Abhijeet Gupta will not be easier than the last when the Indian had annexed the crown in Sri Lanka. The local challenge from Delhi will also come from Vaibhav Suri and Sahaj Grover who are both young Grandmasters.
The championships carry a total prize fund of Rs. 10 Lacs.
Newly elected AICF Secretary Bharat Singh Chuahan is organising this championship in Delhi and every time the event has seen an unprecedented uplift when organised in the national capital. This is the first time ever in India that the championships are being held in a certified five star deluxe hotel.
The championships will be played for a maximum of nine rounds. Alongside the championships the first ever media tournament in Delhi will also be organised.