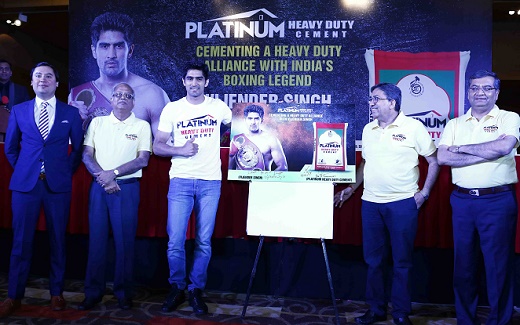 New Delhi/Jaipur: Platinum Heavy Duty Cement, a premium brand of the J.K. Organisation, today announced the Indian Knockout King and Olympic Bronze medalist Vijender Singh as the new face of their brand.
"We found the perfect personality that defines brand Platinum in Vijender Singh, who is India's most successful and reliable professional boxer. Undoubtedly, he is the toughest sportsman that India has today, suiting the product which in a short time has knocked out many established products in Rajasthan its State of Entry due to its sheer Grit, Toughness n Reliability," said Dr Shailendra Chouksey of Udaipur Cement Works Ltd that produces brand Platinum.
Simultaneously Platinum Heavy Duty Cement announces its association with "Battleground Asia" as its Title Sponsor Platinum Heavy Duty Cement will be the title sponsor of the star-studded fight night 'Battleground Asia' that will feature the double title fight between Vijender Singh and China's no.1 boxer Zulpikar Maimaitiali. Platinum Heavy Duty Cement is made from World Class Superior PSD Technology which provides a wide array of benefits to the consumers like high initial Tough strength, superior workability, fast setting and 10% more volume. Construction with Platinum Cement is really hassle free as it Requires less water during mixing and ensures more coverage in less effort. The product is first in class with Reinforced Fibres resulting in superior bonding on reinforcement bars and reduced shrinkage cracks.
Vijender Singh who remained unbeaten since his debut in professional boxing has fought 8 bouts, last one being against former World Number 1 boxer Francis Cheka from Tanzania, where he defended his title. Vijender clinched on to his first title, in July 2016, against Kerry Hope of Australia, becoming the WBO Asia Pacific Super Middleweight Champion. In total Vijender has fought 8 bouts with 7 of them being won by Knock-out. He has 30 rounds under his belt, and he is now ready to fight for a double-title fight at the 'Battleground Asia' against China's No. 1 boxer Zulpikar Maimaitali
Speaking on this association knockout king Vijender Singh said, "I am happy to be a part of this association, it's great that I will be representing them. I respect the fact that Platinum Heavy Duty Cement, a part of JK Organisation, has made a great progress in such a short span of time. Platinum Heavy Duty Cement has taken into consideration the discerning needs of the consumers of Rajasthan with their highest quality standard cement, which is a great step towards building of the infrastructure of our country. I would like to thank Platinum Heavy Duty Cement for also association with my double-title fight on the 5th of August. I am completely prepared and trained to give in my 100 percent."
On associating with Platinum Heavy Duty Cement for the fight night, Neerav Tomar, Promoter, IOS Boxing Promotions, said, "I am glad that JK Organisation is now a part of our fight night. We hope this association goes on in the long run. I thank them for their support and association."'Battleground Asia', will also feature other elite boxers of India promoted by IOS Boxing Promotions, Akhil Kumar and Jitender Kumar former Olympic Quarterfinalists will make their pro-boxing debut, along with Neeraj Goyat, Pardeep Kharera, Dharmender Grewal, Kuldeep Dhanda and Asif Khan. 'Battleground Asia' will see after a gap of nine years, India's finest boxers, knockout king Vijender Singh, Olympic Quarterfinalists Akhil Kumar and Jitender Kumar in the ring together. The three stars will for the first time be seen together in the professional ring.
Why Vijender for Platinum Heavy Duty Cement?
"Boxing is not just about strength and power. It is about concentration and conditioning of boxer's mind, agility, discipline and strong sense of intelligence and gut feeling to assess each move of the opponent. We identify ourselves very much with these inherent qualities. Today in cement arena most of the players basically talk of durability and long life (sadiyon tak), strength (virat comperessive strength) and technology (engineers' choice, concreto, etc). Our products besides having these qualities in abundance, get differentiated by the concentrated approach that we have in delivering in an agile manner what is best for the customers. Having been in this business in the domestic market for nearly four decades we have refined our technology and have gathered sufficient data on the customers to develop a strong gut feel to assess what is best for the customers. We have adopted a flexible approach to modify our products and services from time to time.
Speaking specifically of Vijender Singh, besides epitomising these qualities he is known for his Simplicity, Quickness of Delivery, Punching Accuracy, impregnable Defence and very strict Discipline. These are the very qualities that we idealise and aspire to in our road to excellence. Our Organisation's philosophy is very much in line with these qualities. We have also believed in faster response time, devising strategies based on the reading of the customer and therefore develop ability to address accurately customer's pain areas. In fact both Vijender and Platinum cement strive hard to deliver a win situation in the fastest possible time."