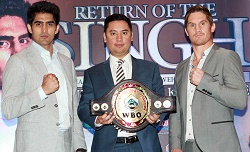 New Delhi: Former European middleweight champion and an experienced Australian boxer Kerry Hope has dared Indian knockout king Vijender Singh ahead of their WBO Asia Pacific Super Middleweight championship title being held at Thyagaraj Sports Complex in Delhi on 16 July.
WBC Asian Boxing Council champion Kerry Hope who is currently training hard in Wales comes into the title fight against Vijender with an impressive record of 23 wins from 30 fights. The 34- year old Southpaw has an edge in experience over Vijender Singh with 183 rounds under his belt and has promised to put Vijender Singh in trouble on 16 July.

"I'm leaving no stone unturned in my preparation. Make no mistake, Vijender Singh is in trouble. He knows it and I know it. I saw the fear in his eyes at the press conference. He knows that he's not in my league. He's been fighting trash and still seems like an amateur fighter so I am going to show him what professional boxing is all about. He's not used to going long rounds and having to dig deep and find a second wind. I'm going to bring the pressure and he's going to wilt. On 16 July there will be 1.25 billion disappointed fans of Vijender Singh" said Kerry Hope.

Knowing the fact about huge following of Vijender Singh, Kerry Hope feels that in any sport, athlete needs experience not support of crowd. "I know there will be an army of support for Singh, but they can't help him or fight for him. It'll be just Vijender, the referee and me in the ring when the bell goes" added Hope.
Kerry Hope further added "Vijender has fought absolutely nobody so far and he's out of his depth facing me so early in his career. I'm not quite sure what his team were thinking accepting the fight, but I believe he's been overmatched. India is one of the greatest sporting nations on earth but the country will be in a state of mourning when Singh is knocked out by me."

Our boxing sensation Vijender Singh is undefeated in six fights with six knockouts in only seventeen rounds of action since his pro debut last October. He is currently training in Manchester.

Vijender's fight will be telecasted live on Star Sports 4 and HD 4 alongwith Hotstar. Fun Fitness is the fitness partner of this boxing championship.