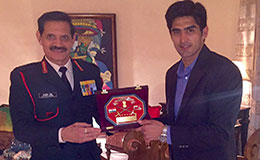 New Delhi: India's star boxer Vijender Singh met Army Chief General Dalbir Singh Suhag at his residence in New Delhi. During this meeting, Army Chief appreciated Vijender Singh for turning professional and applauded him for three consecutive wins in 2015.
In an hour long meeting, Army Chief General Dalbir Singh Suhag also felicitated Vijender Singh for making a brilliant start in his professional boxing career.
Vijender Singh thanked Army Chief for the appreciation and his support.
Vijender Singh said "It's an honor for me to meet the Army Chief General Dalbir Singh Suhag. He is very fond of boxing, he told me that he is following my career from the days I started amateur boxing. I am happy that he is also following my professional bouts. He appreciated my decision for turning professional and winning three consecutive bouts. I would like to thank him for the felicitation and it's a big motivation for me getting honored from the Chief of Army Staff. General Dalbir Singh Suhag also wished me for my next fight scheduled to be held in Liverpool, UK on 13 February 2016. He is a great man".
Vijender who is on a two week vacation in India will be flying back to UK later this week.