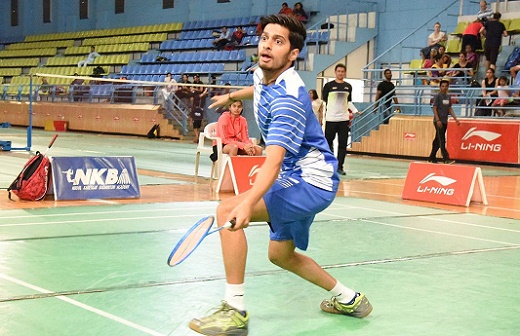 Pune: Nikhil Kanetkar Badminton Academy - NKBA trainees Purva Barve, Varun Kapur, Sanyogita Ghorpade and Pratul Joshi have earned berths on Indian squads shortlisted by the Badminton Association of India (BAI) to figure in various tournaments during the year.
Pune-born sixteen-year-old Purva, ranked No. 33 in the world, has been named in the team set to play the Under-19 World Junior Championships at Gor Amongrogo, Yogyakarta, Indonesia from 16 to 22 October, 2017.
In the season so far, Purva has impressed with a string of top performances which include winning the Israel Open, Italian Open, a bronze in the Russian Open apart from the all-India title at Thiruvananthapuram.
Her performance led to achieving an all-time best rank of No. 26 in July, 2017.
Upcoming youngster Varun Kapur meanwhile will figure in the National team bound for the Badminton Asia Under-17 & Under-15 Junior Championships, 2017 (ABC) to be held at the National Indoor Stadium in Yangon, Myanmar from 4 to 8 October, 2017.
NKBA Head Coach and Director said, "This is a great moment for the Academy. I am pleased that the vision that the Academy envisaged is bearing fruit. Full credit goes to all the coaches and every single individual to help make this possible. Kudos to all four players in remaining focused, believing in themselves and the Academy mechanism in reaching their respective goals."
Fourteen-year-old Kolkata-born Varun will figure in Under-15 segment of the championship.
Varun, like Purva, has had a successful run by grabbing the Israel Open and Croatian Open respectively.
The Indian team for the Vietnam Open includes Sanyogita Ghorpade (women's doubles) and Pratul Joshi (men singles). The championship is scheduled to be held at the Nguyen Du Cultural Sports Club Ho Chi Minh City, Vietnam from 4 to 10 September, 2017.
Sanyogita season includes winning the doubles (partnering Shikha Gautam) crown at the V.V Natu Memorial all India Badminton Tournament in Pune, finishing runners up in all India meets at Bareilly (partnering Sanyam Shukla; mixed doubles), Davangere, Karnataka (partnering Dhanya Nair) apart from being a finalist in the Senior National Badminton Championship (partnering Dhanya Nair) at Patna.
The 24-year-old also was runners up in the Mauritius Open (partnering Prajakta Sawant) in June.
India No.2 Pratul Joshi completes the four-player NKBA line up.