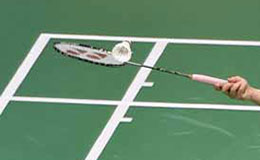 Chandigarh: Chandigarh Badminton Association will be conducting Chandigarh State Badminton Championships in the category of Juniors and Seniors (Boys & Girls) from September 6 to 9, 2017 at Sector 7 Badminton Hall, Chandigarh.
Entries will be closed on September 2, 2017. Entries can be given to Rajiv Tuli / Vivek Sharma, Sector 7, Sports Complex, Kabir Chauhan at Sector 42, Badminton Hall, Tejinder Singh Bedi at Shivalik School, Bhuwan Sethi at Panjab University, Chandigarh. Entry forms can be procured from the above centres and also will be on the Chandigarh Badminton Association site from 25.08.2017.
Junior players must attach valid birth certificate as per BAI Norms. Based on the performance in the above Championships, the Chandigarh State Junior and Senior teams will be selected to participate in the forthcoming North Zone Interstate Badminton Championships to be held in Chandigarh from September 26 to 29, 2017.