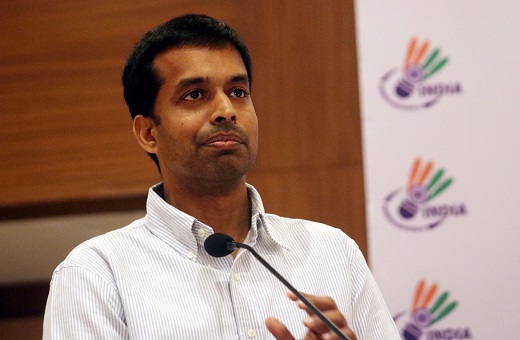 Kolkata: National badminton coach Pullela Gopichand said on Tuesday he is happy if the rivalry between women singles stars P.V. Sindhu and Saina Nehwal helps them become better players.
Sindhu, thanks to two World Championships bronze medals and the 2016 Olympic silver medal, has forced Saina to share the Indian badminton limelight lately. The rivalry has also moved off court. While Saina signed an annual deal of Rs 40 crore with a private firm after her bronze medal at the 2012 London Games, Sindhu reportedly has signed an annual deal of Rs.50 crore -- making her the highest-earning sportsperson apart from the cricketers.
While Saina is a trailblazer, Sindhu, according to some sports experts, has gone beyond the former in terms of major medals accumulation. Saina also has a World Championship silver medal in her successful career.
"If it helps their performance get better I am happy," Gopichand, who is the mentor of Sindhu who who won a silver for India in the 2016 Rio Olympics, told reporters on the sidelines of Boria Majumdar's book launch 'A History of Indian Sport through 100 Artefacts' here.
Sindhu and Saina have been fiercest rivals over the years and on Monday teamed up for a doubles match for employers Bharat Petroleum Corporation Limited at the 38th PSPB inter-unit badminton championship in Bangalore.
The star pair went down fighting against doubles specialist pair of N Sikki Reddy and Aparna Balan. Sikki Reddy and Aparna Balan beat Sindhu-Saina duo 19-21, 21-18, 20-22.
Asked about Sindhu's next target, Gopichand said the World Championships, starting August 21, and the All England Open Badminton Championships will always be the top priority.
"We have the World Championships coming up. That will be a good tournament to win. Overall, we will have an Olympic medal activity. Every year, the World Championships and the All England will be the two most prized positions along with the other Super Series events," he said.
On Saina's lean patch, Gopichand who coached the former junior champion previously, said he is certain the former World No. 1 will be at her best soon.
"Saina has had some good performances and I hope she comes back strongly," he said.
Besides Nehwal and Sindhu, Gopichand tipped West Bengal's Rituparna Das to come good in the coming years.
"Rituparna Das is in the top fifty. It's a good position to be behind Saina and Sindhu. She is the next highest ranked players in the country. There is still time when she can reach the top ten in the world. I am sure she is somebody who is working hard and will have success in the future," he said.
Gopichand hoped Tokyo 2020 will be better than Rio. "There is still time. It's been a tough journey till now and it will get more tougher because the benchmarks have gone higher. I hope that we will be able to achieve better results next time than what we did last time," he said.
On a different note, the former All England Open Badminton Championships winner in 2001, said it is important for all stakeholders in sport to stay on the same page.
"For sport to come up, it should be system supporting, coach led and athlete centric. For any sport to come up, it is always people first, programmes next, infrastructure and facilities come third," he said.
"The other being it has to be coach driven. We are very administrative driven at many places. Sometimes when players become successful, it becomes successful athlete led, successful athlete centric programmes which are disasters. we need a mature system to understand sport. we need to integrate all our systems together to make sure sport goes to the next level. we are a little far away from that.
We need to agree on sport, on a common philosophy. We are here and there. There are corporates working, schools working, federations working, NGOs working, government working but all independently," the 43-year old signed off.