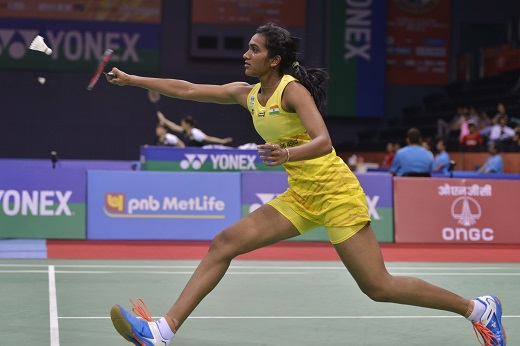 Hyderabad: India's star shuttler P.V. Sindhu is focusing on coming championships and aims to give her best to achieve her ultimate goal -- becoming World No. 1.
After winning the Indian Open Superseries early this month, she was almost there, with a career-best ranking of World No. 2.
The 2016 Olympic silver medallist, however, slipped to fifth place last week following a first-round exit from the Malaysian Open. She also lost in the quarter-final of the Singapore Open Superseries.
The double World Championship bronze medallist, however, is not disappointed. "Winning or losing is part of life. Sometimes you will win, sometimes you will lose," she told IANS.
The 21-year-old Hyderabadi also doesn't want to put extra pressure on herself by bothering too much about rankings.
"If you play well and give your best, it automatically gets your ranking up," said Sindhu.
She is now focusing on Asia Badminton Championships to be played in China between April 25 and 30. "After that we have the Sudirman cup in May," said Sindhu, who hopes to do well in the two events.
Sindhu, who defeated Spaniard Carolina Marin in the Indian Open final, lost 11-21, 15-21 to her arch-rival in the quarter-final of Singapore Open.
With this win, two-time reigning world champion Marin has taken a 6-5 lead over the Indian in career meetings.
The two had been facing each other in key contests since Sindhu lost to her in Rio Olympics final.
Sindhu had avenged her defeat at Rio by beating the Spaniard in the Dubai Superseries final last year.
"I have beaten her sometimes, I have lost to her sometimes. It's all part of the game," said Sindhu.
She said off-court they were just normal friends. "On-court we fight each other because only one can win," she said.
The first Indian woman to win a silver medal at the Olympics, Sindhu also achieved another milestone last year by bagging her maiden Superseries Premier title when she won China Open. It was the only trophy missing from her cabinet.
The series of wins help the 5' 11" Sindhu become only the second Indian woman after her illustrious citymate Saina Nehwal to break into the top five of the world ranking.