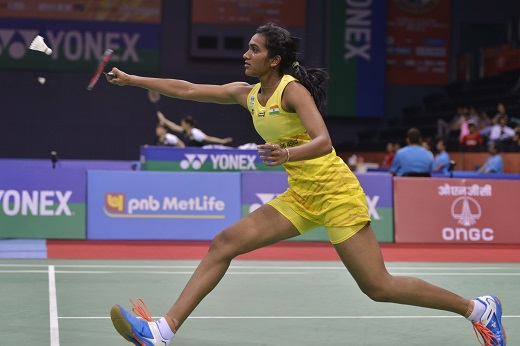 New Delhi: India's Olympic silver medallist P.V. Sindhu overcame South Korean second seed Sung ji Hyun on Saturday to set up a pulsating title showdown against Spanish top seed Carolina Marin in the India Open World Superseries badminton championships here.
The Indian third seed got the better of Sung 21-18, 14-21, 21-14 in a women's singles semi-final which lasted an hour and 16 minutes at the Siri Fort Sports Complex.
The final on Sunday will be a repeat of the 2016 Rio Olympic final which saw Marin earning the gold medal. The world No.3 registered a facile 21-16, 21-14 win over Japanese fourth seed Akane Yamaguchi in 40 minutes.
As compared to Sindhu, Marin struggled less during her Saturday's game. And for the Indian it will be important to recover the energy she spent in the gruelling battle against Sung.
The 25-year-old South Korean was inconsistent throughout the match. But she ensured that Sindhu had to put in her best.
In the first game, Sung got off to a fine start, racing to a 6-3 lead. Then Sindhu equalised at the seven-point mark, aided by several unforced errors from the South Korean, who struggled with net play throughout the first game.
Sindhu then took the lead, pressurising Sung to play the catch up game. Sung conceded the lead owing to a couple of shots that went wide, allowing Sindhu to build up a healthy 15-11 lead.
The closest Sung came to erase the deficit was when one cross-court smash caught Sindhu off-guard showing the scoreline 17-16 in favour of the Indian. However, poor net play and Sindhu's powerful smashes to the left of Sung again allowed the home star to win the first game 21-18.
The second game saw Sindhu continuing her momentum as she zoomed to a 5-2 lead. But Sung stepped up her game and fought her way back with the help of an attacking brand of badminton.
She gained an 8-6 lead with the help of six consecutive points and the momentum swung in her favour. Her cross-court smashes fell in the right places and Sindhu felt the pressure. And from thereon, even though Sindhu did her best to close the gap, Sung never looked back.
Sindhu tried to force her way back, and at a point of time the 13-16 scoreline seemed to make a good contest. But Sung's improved net play and array of lethal attacking strokes gave her a 21-14 win.
In the third game, Sindhu was back in her rhythm and a 5-1 lead seemed a perfect start to the deciding game. And at the midway break, the Indian held a 11-4 lead.
After the two-minute break, Sung went on an attacking spree, raising hopes of a fierce comeback as she reduced the deficit to two at 10-12. Sindhu, feeling the pressure, however, didn't stop playing her aggressive game. Even though she made some unforced errors, the momentum swung in her favour. She then ran away with a 21-14 win.
With this win, double World Championship bronze medallist Sindhu took a 7-4 lead in career meetings against Sung, the 2015 World Championship bronze medallist.
"It is always difficult to play Sung Ji as she is a kind of player against whom you have to construct points as she would not give away easy points," an ecstatic Sindhu said after the match.
"In the past also, I have played against her and it was never easy to play her. But I had faith in myself and knew that I could go the distance."
Now, in her maiden India Open final, Sindhu will be up against Marin, who leads 5-4 in the head-to-head record against the Indian.
Looking ahead to the final, Marin said: "For everyone it will be a rematch from the Olympic final but for us it will be a new chapter in our rivalry. She will have the home support but it will surely be an interesting match."
In the men's finals, top seeded Viktor Axelsen will meet Chou Chen Tien Chou of Chinese Taipei. Axelsen got the better of NG Ka Long Angus of Hong Kong 21-12, 21-13, while Chou Chen beat the Danish youngster Anders Antonsen 21-17, 21-14.