Vani Kapoor showed the way for the Indians with a fine performance on the opening day of the 11
th
Hero Women's Indian Open at the Gary Player course at the DLF Golf and Country Club.
The small-built Vani, who nevertheless packs a lot of power, is playing her seventh Women's Indian Open, but fifth as a pro. She used her course knowledge well to come back from being two-over after five holes to finish with 69. She had six birdies against three bogeys and she was placed Tied-4
th
with five others.
Vani was two shots behind leader Norwegian Marianne Skarpnord, who also had six birdies, but only one bogey, the result of a three-putt on fifth, in her first competitive round at the Gary Player layout.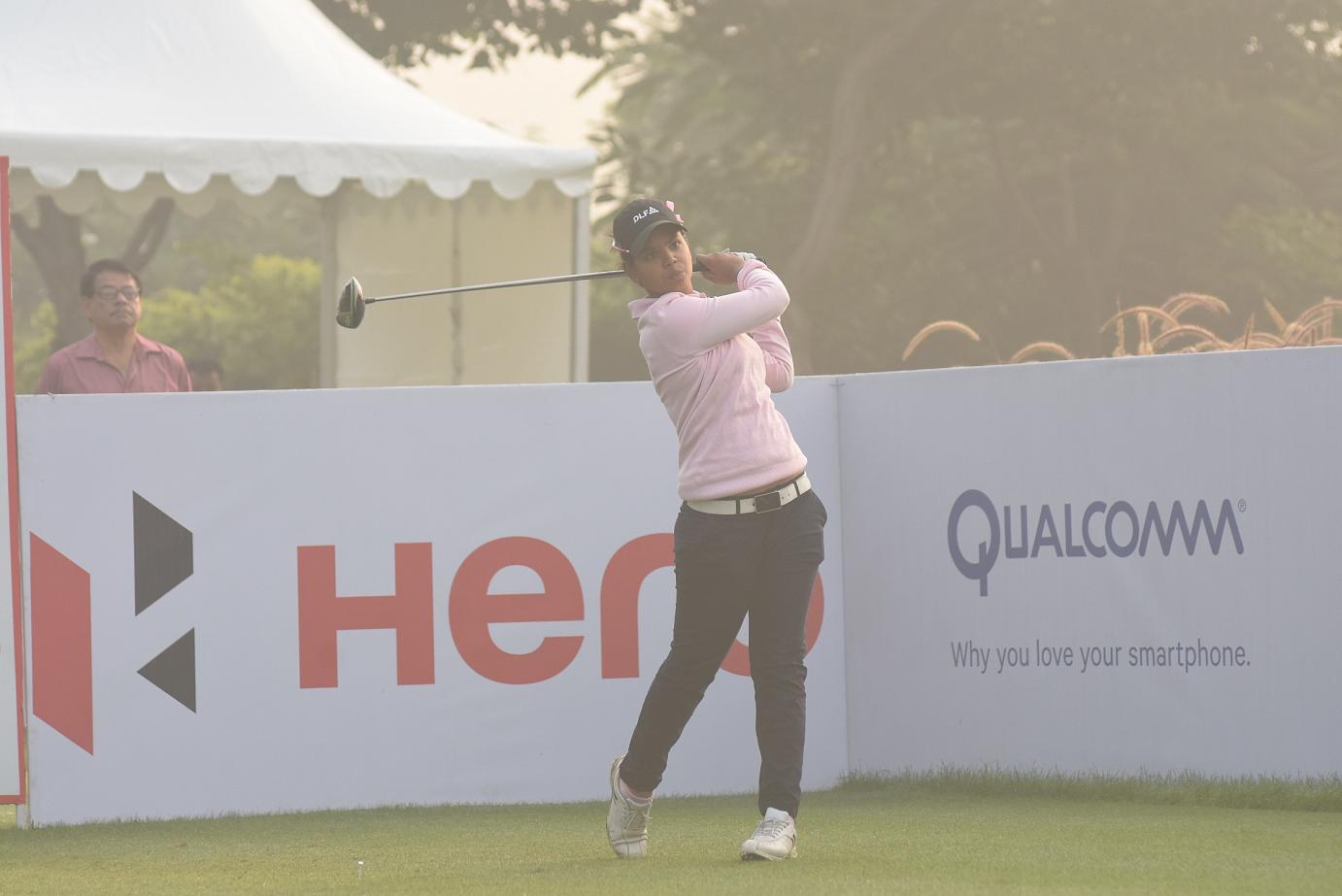 Sharing the second place were Camille Chevalier and England's Liz Young, who shot four-under 68 each. Chevalier had five birdies against one bogey, while Young had six birdies against two bogeys.
Vani was tied fourth with Meghan MacLaren, Klara Spilkova, Olivia Cowan, Karolin Lampert and Kanphanitnan Muangkhumsakul.
Just behind them, giving the Indian challenge a bigger boost were defending champion Aditi Ashok (70) and local DLF golfer, Gaurika Bishnoi, who is also the Order of Merit leader on the local Hero Women's Pro Golf Tour.
Skarpnord's 67 also equaled the course record for the Gary Player layout. Thailand's Kongkraphan Patcharajutar had a 67 in the second round in 2015, the year when the HWIO was first played at this new course.
The tight leaderboard had as many 18 players shooting 70 or under and were within three shots of the lead.
The 23-year-old Vani Kapoor's coach at the DLF, Anitya Chand has been around dividing his time between seeing his ward and running the tournament as part of the event management team. Even though Vani has a LET card, she was hit by lack of tournaments in the first half of the season. She had seven starts this season and made cuts in five, but was not able to string three or four good rounds in any and has a best of T-36 at Lalla Meryem Cup.
" The experience of travelling has been good," she says. "I played at this course two weeks ago and won on the domestic Tour, but then went to Abu Dhabi after that. I came back and played nine holes

on Tuesday

and

Wednesday

and the Pro-Am

on Thursday

. I know this course well, so that was fine."
"I'm pretty satisfied because I had a dodgy start and I was two-over after five holes. I was really tense but then I had a birdie on the sixth and then again on the seventh and the ninth. I found my momentum there."
"On the back nine, I managed to keep it going and not think about anything else. I had some good putts, one of which was from almost off the green, about 30 feet and then some other long ones like the 18
th
, where it was 20 feet."
Three-time winner on LET, the leader Skarpnord, 31, who joked that she could well win the World Championships for sleeping, is playing the course for the first time. "The last time I was here was 2009 or 2010 so I haven't played here since they changed it. I've been hearing a lot from the girls and trying to paint a picture. I think a lot of the holes are really good but it's just some of the greens are a bit crazy and you have to be so careful where you carry the ball because if it hits the slope it can end up 20 metres from the pin. If you are short sided here, you are in big trouble.
"I just tried to be patient and not worry too much about the bad shots and don't let them bring me down, because there are 18 difficult holes and I didn't have enough energy to waste on being angry."
The morning leader, Liz Young said, "It's very different to the other courses that we play on the LET. You have to think your way around on every shot. There is no let up and you can make birdies and bogeys very easily out there so it's a good challenge."
She added, "I enjoyed it out there today. I putted really well. I always use a local caddie when I come to India and once I again I did again this year. He was really good on the greens, telling me the pace and the direction, so we worked well together."
Aditi, seen as one of the top favourites after her win in Abu Dhabi last week, said, "I putted okay today but I didn't hit as many approach shots close to the flag as I should have."
She added, "Hole 15 was good. I hit a 3-wood off the tee, then a hybrid and had a wedge to about 12 feet and holed the putt. I hit the last five greens in a row and they were pretty much my birdie chances but up until then I was grinding for par."
The 19-year-old Economics student, Gaurika Bishnoi, who prefers to play and train in India, rather than going abroad on a golf scholarship said, "I play this course often, but not all the time because most courses are different from this. The WGAI has given an opportunity to play whenever we want, so its great and we know it well."
Among other Indians, Saaniya Sharma (73) was T-41
st
and Gursimar Badwal (74) was T-54
th
Three other well-known Indian players Amandeep Drall (77), Smriti Mehra (78) and Sharmila Nicollet (79) had a disappointing first day.