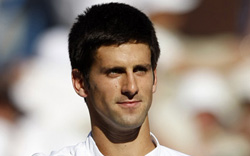 World number one Novak Djokovic starts his 2012 French Open with a goal of the winning grand slam that has eluded him in his illustrious career. Djokovic does start the tournament as a serious contender and if he sustain challenge from the other greats like Rafael Nadal, Roger Federer and Andy Murray and end the tournament on a winning become the first player after the Australian legend Rod Laver to hold all the grand slams simultaneously. Rod Laver achieved the feat in the year 1969 and since then the world saw some great players like Andre Agassi, Pete Sampras, Roger Federer and Rafael Nadal and none of could them achieve the rare feat.

Djokovic has a chance and going by his form it looks like he should be able to achieve it and become immortal in the record books of the World Tennis.

Even though the current scenario does provide an ideal ground for him and he is all poised to win a career grand slam, his chances would largely depend on as to how he faces the "King of Clay" Rafael Nadal.

Expect Nadal to come hard at his opponent in this year's tournament as he would be eager to break Bjorn Borg record of most number of French Open title. Nadal is currently tied with Borg for six titles. French Open has been Nadal's favorite hunting ground and his win percentage her is astonishing 93% which is perhaps the most dominant record of the Open Era of tennis. He has lost just one game since making his debut in 2005, and his loss came much due to his knee injury in 2009 where he lost to Robin Soderling.

Djokovic knows that Nadal is the strongest player on the tour and playing requires lot of endurance which gives Nadal an edge over other players. But then the fact that Djokovic beat Nadal twice in a row on clay and also snapped his 37 games winning streak on the surface where he exerted maximum dominance does prove a point that should the world number hold on to his ground he can beat him this year also.

It does take a lot to play on different surfaces and come out demands a lot physically and if Djokovic does it this time around it would surely take him to new heights and make him a complete player. He would definitely look forward to win it this time and does he achieve it would definitely place him above all his peers such as Federer and Nadal.

By Indian Sports News Network