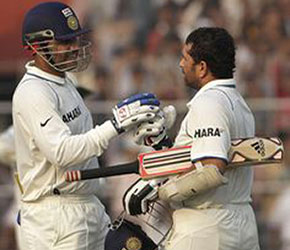 India haven't played much of competitive Test cricket after their Australia tour and will take on England in the first match of the four-match Test series at Ahmedabad on November 15. This is one of the most awaited series in recent times and the build-up going into it have reached great heights.
England embarrassed India last season, where they were not able to win even a single match. India were thrashed 4-0 in the Test series, lost the T20s and also the one-dayers. It was probably India's worst tour in their history and no one can forget the humiliation MS Dhoni's men suffered.
Soon England came to India for the one-day series and lost all their matches. But the Indian team will know that the revenge is not complete. England embarrassed India in their home conditions and it the time for some pay-back.
The first Test of the series sets the tone for the coming matches and both MS Dhoni and Alastair Cook will be hoping to get that early advantage.
Both teams have some of the world's best players and it is expected to be a cracker of a contest.
Let's have a look at some of the players who will be in thick of action in the first Test:
India:
Sachin Tendulkar: His journey has been phenomenal and he has done almost everything that a batsman can think of achieving. Sachin has almost all the batting records to his name but that has not affected his sheer dedication towards the team. Once again India will be relying heavily on him especially in the absence of Dravid and Laxman. The poort form of their openers does India no good either. Sachin has not scored a century in the past four Test series, including the series against West Indies and New Zealand in India. He will be eager to have a go against the opposition that troubled him last year.
Virender Sehwag: It is a very important series for Sehwag and he will know it better. Sehwag has been disappointing in all the formats in the recent past and the two time triple centurion has looked lost in five day cricket. Sehwag did well to score a hundred in Ranji Trophy and will be hoping to do the same against England.
Zaheer Khan: It is a big series for India and the team will be hoping that the big players will rise to the occasion. It is a fact that India do well when Zaheer Khan is bowling well. Against England, Zaheer got injured on the first day and missed the entire series. This time Zaheer will be looking to start the series on a high. He has had some injury problems and it will be interesting to see how he goes about the series.
R Ashwin: It is a fact that all the four tracks will be spinner friendly and that makes Ashwin's role critical in the team. He has done very well in sub-continent and it is when the team travels abroad that he has struggled. Ashwin was lethal against the Kiwis in India's last Test series and the team will be expecting the same from him. He is a more than handy batsman and has a Test hundred to his name.
England:
Kevin Pietersen: For England, a lot will depend on how this man will bat. Pietersen was out of the side because of some controversies and is back in the squad. He is an aggressive cricketer and likes to stamp his authority on the opposition early in the series. He likes to dominate bowlers and his skills against slow bowlers make him very dangerous.
Alastair Cook: This man has been great for England cricket and is the main reason why England is such dominant force in Test cricket. He scored tons of runs when India travelled there and will be hoping to do the same this time. His patience and grit is phenomenal and he has the ability to handle any situation. He will have to score big if England has to do well here.
Graeme Swann: He is one of the best spinners going around in the world right now. Swann has been brilliant for England and it is his variation that makes him so dangerous. It is a treat to see him bowl and a lot will depend on him. He will get pitches that will assist turn and Swann will know that he has to deliver for England to do well.
James Anderson: He has been a consistent performer for England from the past few seasons. Anderson is very intelligent and has grown in stature. He is one of the best new ball bowlers going around and his ability to swing the ball both ways makes him very dangerous. He has the ability to produce unplayable deliveries now and then and his battle against the Indian openers will be incredible to see.
By Indian Sports News Network