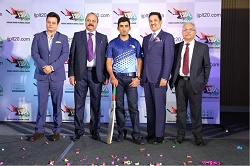 New Delhi: Grace India Sports Pvt. Ltd and Fitness World have announced Indian Junior Players League (IJPL) T-20 Tournament, world's biggest cricket talent hunt that is scheduled to screen thousands of young Indian cricketers across 22 cities in 16 Indian states from Chandigarh to Chennai and Gujarat to Guwahati, covering almost the entire expanse of the country. The tournament shall be played with pink ball to make budding cricketers adept at shape of things to come.
Gautam Gambhir, the brand Ambassador of IJPL and leading left-handed opening batsman & Captain of Kolkata Knight Riders IPL team, said, "Talent is God-gifted but a platform to showcase this talent is not. IJPL T-20 is a perfect opportunity for cricketers under 18 years of age from different schools and cricket academies to become a star. It is your chance to graduate from gali cricket to playing in largest of the stadia with capacity crowds and your game being aired on TV."
Dr. Dinesh Kapoor, Managing Director, Grace India Sports and Fitness World explains, "Our vision is to expand IJPL is different sports so that we are able to spot talent at an early stage of the young generation. Our revered Prime Minister Narendra Modi has set up a task Force to remedy the existing situation in sports. With this spirit in mind we have started a process to spot talent at an early age in the country for different games.

We'd be organizing 3-day camps at 22 cities in 16 states. Of this, 16 city/state teams, each comprising 15 players, shall be selected to compete for the title. We have signed up international stars like Wasim Akram, Shoaib Akhtar, Kieron Pollard & Jonty Rhodes besides Rishi Dhawan and Paras Dogra from to mentor the talent pool.

According to Jasmeet Bhatia, Founder and CEO, Grace India Sports, "Cricket is a way of life in India, a second religion of sorts. Whenever the men in blue play a major game, around 400 million people watch it on their TV sets, that's almost one-third of India's population of the 1.3 billion and 70% of the TV viewers.
We have appointed BCCI certified coaches and Ranji Trophy players would be providing intense 3-day training to registrants at the selection camps. Best practices and facilities for grooming talent and developing skills shall be offered. Performance shall be the only criteria for selection and all registrants shall be treated equally."

Jawahar Gupta, Director stated that each State team shall constitute 15 players. All teams will be flown to Mumbai for a play-off during the 20 day stay.
The winning team will get prize money of Rs 21 lacs, the 1st runner-up team will get Rs 11 lacs while the Man of the series will get a chance to play with minor counties in England.

The 22 cities where the selection camps shall be conducted include Delhi, Gurgaon, Greater Noida, Ambala, Chandigarh, Amritsar, Dehradun, Lucknow, Kanpur, Jaipur, Bhopal, Indore, Ranchi, Guwahati, Kolkata, Ahmedabad, Baroda, Mumbai, Pune, Hyderabad, Chennai and Bangalore.

The 16 teams to be selected include Delhi Dashers, Haryana Hurricanes, UP Heroes, Punjab Tigers, Dehradun Rockers, Rajasthan Roarers, MP Warriors, Ranchi Boosters, Assam Rangers, Kolkata Strikers, Gujarat Greats, Mumbai Masters, Pune Panthers, Hyderabad Hawks, Chennai Champs and Bangalore Stars."