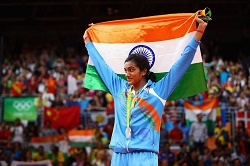 New Delhi: Offering tributes to 'Hockey Wizard' Major Dhayan Chand on his birth anniversary, which falls on August 29 and is celebrated as National Sports Day, Prime Minister Narendra Modi on Sunday said in his 'Mann Ki Baat' Programme on All India Radio that he wished to remind all the countrymen about his invaluable contribution on this occasion.
"Tomorrow, 29th August is the birth anniversary of hockey wizard Dhyan Chand. This occasion is celebrated as 'National Sports Day' throughout the country. I offer my tributes to Dhyan Chand ji and wish to remind you all about his invaluable contribution. He played a pivotal role in helping India win Hockey Gold Medals in Olympic Games of 1928, 1932 and 1936. All of us cricket lovers know Bradman's name very well. He had complimented Dhyan Chand ji by saying that 'he scores goals like runs'. Dhyan Chand ji was a living example of sportsman spirit and nationalism. During a match in Kolkata one player from the opposite team hit him on the head with the hockey stick. At that point, only 10 minutes were left in the game. And, Dhyan Chand ji scored three goals in just those ten minutes and said – "I avenged the hit by scoring goals," he said.
Excerpts from his programme:
Dear countrymen, as the time of Mann Ki Baat draws near, a very large number of suggestions are received on MyGov or NarendraModiApp. These are on diverse topics. But, I saw that this time in most of these suggestions, people had asked me to say something about the Rio Olympics. I find it a very positive sign that our common people have such attachment and awareness about Rio Olympics and they are insisting that the Prime Minister of the country says something on this matter. It shows that besides Cricket, our people have so much involvement in and awareness and knowledge about other sports and games also. For me, even reading these messages proved to be a source of inspiration. One Shri Ajit Singh ji has written on NarendraModiApp – "Please, this time in 'Mann Ki Baat' do talk about the education of our daughters, our 'Betis' and their participation in sports because they have brought laurels for the country by winning medals at the Rio Olympics." One Shri Sachin has written to urge that in 'Mann Ki Baat' this time a mention may please be made about Sindhu, Sakshi and Dipa Karmakar. Whatever medals we got have been earned by our daughters. These Betis have once again proved that they are second to none in any respect. One of these daughters is from North India while there is one who belongs to South India and then there is one from the Eastern part. All in all, they represent all corners of our country. It seems that our daughters in the whole of India have decided to take up the responsibility of bringing glory to the nation.
Shikhar Thakur has written on MyGov that we could have performed better at the Olympics. He has written – "Respected Modi Sir, first of all, congratulations on our winning two medals at Rio. However, I want to draw your attention to the question - was our performance really good? And, the answer is 'No'. We have to go a long way in the field of sports. Our parents, even today, insist on focusing on studies and academics. Sports are considered a waste of time in our society. We need to change this mindset. Society needs motivation for this. And, no one can do this better than you."
Similarly, one Shri Satya Prakash Mehra ji has written on NarednraModiApp – "In Mann Ki Baat, there is a need to focus on extra-curricular activities, especially on encouraging children and youth to play." Thousands of people have expressed similar sentiments. There is no denying the fact that we could not perform up to the expectations. Some of our players could not even touch during these Games their own performance level which they had achieved during the domestic events in India. In the medals chart, our tally was only two medals. However, it is also a fact that if we look closely, we shall find that despite missing medals, Indian players gave a very good account of themselves for the first time in some of the events.
See, our Abhinav Bindra very narrowly missed the medal and got fourth place in Shooting. Dipa Karmakar produced a superb performance in Gymnastics, although she remained at the fourth place and missed a Bronze by a very narrow margin. But, how can we forget that she is India's first daughter to qualify in Gymnastics for the Olympics and also to reach the final round. The pair of Sania Mirza and Rohan Bopanna met almost a similar fate in Tennis. Our athletes this time gave a creditable performance. After 32 years of P.T. Usha's feat, Lalita babar qualified for the finals in track and field. Our Women's Hockey Team qualified for the Olympic Games after a space of 36 long years. Men's Hockey Team reached knock out stage after 36 years. Our team is quite strong. And the interesting part is that Gold Medalist Argentina lost just one match in the entire tournament and the team which defeated them was INDIA. Thus, the future surely seems bright for us.
Vikas Krishna Yadav reached the quarter finals in Boxing but could not win Bronze. Many players like Aditi Ashok, Dattu Bhokanal, Atanu Das gave a very good performance. But my dear countrymen, we do have to go a long way. And if we stick to the same routine, we may perhaps keep facing the same disappointment. I have announced setting up of a committee. The Government of India will make an in depth in-house analysis and will study the practices being followed around the world. We shall prepare a roadmap on how we can do better. We have to prepare a far reaching plan keeping in view the Olympics in 2020, 2024, 2028. I urge the State Governments also to set up similar committees to find out as to what we can do in sports. What can each state do? The states can take up one or two sports of their choice and display their strength.
I urge our sports associations also to do objective and impartial brainstorming on this. And, I also request all citizens of the country who have interest in this matter to mail their suggestions on NarendraModiApp. They may write to the government; associations may discuss these issues and submit their memoranda to the government. State governments too should deliberate on this matter and provide their suggestions. But, we must prepare ourselves fully and thoroughly. And, I am confident that we, the nation of 125 crore people comprising 65 percent youth population can reach an exalted status in the world of sports too. We have to move ahead with this resolve.
My dear countrymen, 5th September is 'Teachers Day'. For many years, I have been spending a lot of time with students on Teachers Day and that too as a student myself. I used to learn quite a lot from those young children. For me, 5th September was Teachers Day as well as an Education Day. But, this time I have to leave for G-20 Summit and so felt in my heart that I should express my feelings in this regard in 'Mann Ki Baat' today.
In our life, a teacher holds the same place which a mother does. We have also seen such teachers who care more for their pupils than for themselves. They devote their lives for their disciples, their students. These days, after Rio Olympics, Pulela Gopi Chand ji is being talked about everywhere. He is a player first but he has set up a glorious example of what a good coach, that is, a teacher should be. I see Gopi Chand ji today as an excellent teacher besides being a very accomplished player. And, on Teachers Day, I salute Pulela Gopi Chand ji for his hard work, his dedication towards sports and his manner of finding happiness in the success of his disciples. We always feel the contribution of our teachers in our lives. 5th September happens to be the birthday of India's former President Dr. Sarvapalli Radhakrishnan ji and the country celebrates this as Teachers Day. Whatever post he held in his life, he always tried to live like a teacher, an educator. Not only this, he always said that "a good teacher can only be one who keeps the student within always alive". Dr. Radhakrishnan ji showed this by living as a teacher and by keeping alive the student within him despite holding the highest office of the President.