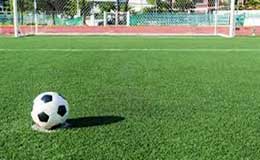 NEW DELHI: Football fever is catching up in the Country and Mumbai will witness an International match after 61 years when the Blue Tigers, ranked 152, take on Puerto Rico, ranked 114, on 3rd September 2016 at Mumbai City FC's new home stadium, Mumbai Football Arena (Andheri Sports Complex). The match kicks off at 8 pm. Tickets for the magnanimous match are priced at Rs. 200 and fans can purchase it online through www.bookmyshow.com which is currently live or buy them at the Venue Box Office Counter at Stadium from Thursday, 1st September onwards.
This is the first time a Team from CONCACAF region will be playing an International Friendly in India. Mentioning the significance of the match, All India Football Federation General Secretary Kushal Das stated, "Mumbai is an important destination for Indian Football but it has been long that International Football was played here. Hence, it was important to bring back International Football back in heart of the City."

"We believe that the Andheri Sports Complex is a good Football Stadium. We would like to congratulate Aditya Thackeray and the Stadium authorities for the excellent work they have done in making the Stadium complaint to host a FIFA International Friendly", he told www.the-aiff.com.