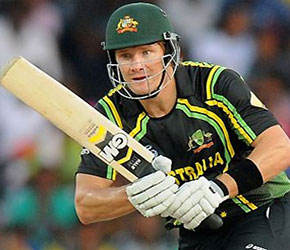 St. Lucia Zouks-bound all-rounder Shane Watson says that he's determined to start the latest chapter in his career on a high as excitement for the Hero Caribbean Premier League (CPL) builds across the Caribbean and beyond.
The Australia star recently drew the curtains on an illustrious international career, distinguishing himself as one of the great all-round talents of the modern era. With the bat across all three formats the Queenslander scored 3,731 Test runs in 58 Test matches (including four centuries at an average of 35.19), 5,757 runs in 190 One-Day Internationals (averaging 40.54) and 1,462 runs in 58 Twenty20 internationals (at 29.24). While with the ball, the fast-medium bowler claimed 75 Test wickets, 168 ODI victims and 48 T20 wickets.
Watson, who departed the international arena with Australia at the top of the ICC's T20 all-rounder rankings following the recent ICC World T20 in India, joins a squad brimming with talent and promise. In addition to captain Darren Sammy, another local favourite in Johnson Charles and Andre Fletcher – who all featured in West Indies' World T20 success – the squad includes a host of rising domestic talent as well as South African duo David Miller and Morne Morkel. And there's a familiar face in fellow Australian stalwart Mike Hussey, another CPL debutant, in the Zouks squad.
In an exclusive interview with www.cplt20.com on the eve of his 35th birthday tomorrow, Watson outlined his hopes and ambitions for the forthcoming campaign and shared a fascinating insight on the Zouks squad and how there's plenty of fight in the old dog yet.
On the competitiveness of this year's CPL: "There's no doubt that this year's CPL is going to be fiercely competitive. There are world-class players playing in the tournament which immediately puts a jolt of excitement in you, even before a ball is bowled and I'm hungrier than ever to try and bring some success to the Zouks. I've heard a lot about the carnival atmosphere at CPL games and it will be a thrill to step out there on the Darren Sammy National Cricket Stadium."
On finishing his international career: "To be honest, it doesn't really feel like I've retired because I've still been as busy as any other time. Obviously the World T20 was hugely frustrating, but that's another story. But going on to play IPL was a fun experience. I had made a few tweaks on the technical side of my bowling and mentally I was trusting my own instincts a bit more, which helped me achieve better consistency. I've had a better run of consistently better days than previously in my career. Even though one door has now closed on my career, I'm as hungry as ever to keep on learning, keep improving my own skills and hopefully keep on contributing to the team."
On being part of the CPL's historic move to the USA: "I think this is a great opportunity, not just for CPL but for the game of cricket internationally. It's huge, if I'm honest. Every single player I've spoken to about CPL is raving about being part of this new departure and if we can get a good level of support there this year, hopefully the popularity of the game will just grow and grow. It's a privilege to be a part of something new on the horizon."
On the influence of Michael Hussey: "I'm excited to play with Mike again. Mike is quite simply one of the nicest and most genuine guys you could ever hope to meet and I'm fortunate to have played a lot with him for Australia and in the Big Bash League (BBL). I'm delighted that I'm going to be out in the trenches with him again and he will add a huge amount to the Zouks environment, especially with the younger players. He has so much enthusiasm for the game still, even at 41, and he has showed his class time and time again. At the BBL he had hardly picked up a bat in six months and went out and crashed 80 not out in his first game to win the match for Sydney Thunder. It's like he's timeless!"
On once foes becoming friends this summer: "One of the great aspects of playing on the T20 circuit is the friends you make. And I love St. Lucia. The people are friendly and passionate about where they're from and as one of the overseas players coming into the Zouks side, I know a lot is expected of us all to work hard. It's exciting to get the chance to play again with Morne (Morkel). We had played together in one of the early IPL seasons and he has caused enough headaches playing against him that it's nice he's on my side now! I've only heard good things about David (Miller) and he has grown a lot as a cricketer over the past few years. Then there's the main man (Darren) Sammy who I have yet to play with. He's obviously a charismatic leader and it will be interesting to see his style of captaincy up front. And there's a hardy crop of good young West Indies talent who will be chomping at the bit to impress. With the West Indies doing so well lately, and the Under-19's winning their World Cup, it's clear the structures that are in place are working across the Caribbean. Let me put it this way, none of us are coming along this summer just to cruise by. That's not how I operate and I know from experience that that's not how Mike Hussey is made of either."