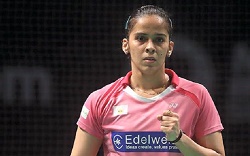 New Delhi: India's ace shuttler Saina Nehwal made India proud by winning her second Australian Open Super series title last week. This win will also act as a morale booster for the Hyderabadi before the Olympics, which begins in August this year.
Saina has assured to give her best shot for India at the Rio 2016 Olympics. According to media reports, the London Olympics bronze medallist said she wasin the zone of winning at the moment. "I would want to do well and win a medal, and want to give my best there. The Australian Open win will give me a lot more confidence for the road ahead," said Saina.

Meanwhile, taking inspiration from Indian cricket captain Virat Kohli's aggression, Saina feels, she need to have the same to win more matches on the badminton court.
Congratulations @NSaina
So happy for you. Onwards and Upwards always #ProudIndian

— Virat Kohli (@imVkohli) June 12, 2016
I would love to get more aggression like u for winning more matches ☺️I m trying hard for that ????Thank u so much ???????? https://t.co/zZ155enEbx

— Saina Nehwal (@NSaina) June 12, 2016
Meanwhile, many celebrities and sportstars congratulated her on Twitter.
#SainaNehwal how great are you ??? ???????????????????????????????????? You make us super proud !!! #AustralianOpen2016#Congratulations@NSaina

— Randeep Hooda (@RandeepHooda) June 12, 2016
Amazing achievement by @NSaina to clinch the Australian open , may you keep the Indian flag flying high as always.???? #Olympics2016 beware????
— Ashwin Ravichandran (@ashwinravi99) June 12, 2016
Congratulations @NSaina for winning the Australian open:)! ???????????????????? https://t.co/TLUY8Sgi1s

— Mallika Sherawat (@mallikasherawat) June 12, 2016
Thank u so much ???????????????? https://t.co/3MZBes2glV
— Saina Nehwal (@NSaina) June 12, 2016
Congratulations @NSaina what a champ you are. Many many more championships will you win. #truehero

— arjun rampal (@rampalarjun) June 12, 2016
Congratulations @NSaina on your second Australian Open victory ! Keep smashing it !! More power to you ????

— Anushka Sharma (@AnushkaSharma) June 12, 2016