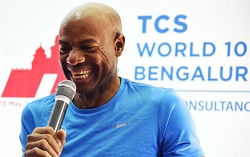 Bangalore: When Mike Powell, walked into the media centre at the TCS World 10K, there was the quiet that accompanies an entry of a legend and when he announced that he was aiming to be a part of the Rio Olympics US team in the long jump, the room was filled with pin drop silence followed by the roaring applause that can only accompany a legend attempting to write a new page in history books.
In India for the fourth time, once even while in competition in the early nineties, Mike noted the heat was still the same and so was the number of people but was delighted at the strength at which the running community had grown - being event ambassador at the first ever Standard Chartered Mumbai Marathon in 2004 and now ambassador the at the ninth edition of TCS World 10K. "As an athlete I realise the importance of being motivated and being excited," said Powell, whose off-the-field enthusiasm for competition is nearly as legendary as his on-field achievements.

"The fact that there are so many great athletes that are going to be running this 10k and really shooting for the 28-minute mark is really exciting to me. I'm going to be right there, cheering everybody the whole way."Continuing, "For me to jump I have to hold my mindset for maybe seven seconds, maybe for a total of thirty seconds to really focus," he said. "But to be able to go out there and run a 5K, or a 10k or a marathon, to hold your focus that long is very, very difficult. To have the ability to focus that long is amazing."

Announcing his comeback, the TCS World 10K International Event Ambassador, Mike Powell, is a self-assured man, sharing, " I know the state of the long jump is in currently and it's pathetic, I have watched these people jump at the World Championships last year and I know I can beat them. No other sport has fallen behind the way the Long Jump has. When Jesse Owens jumped the 8.13 in 1935, you would expect a marked improvement, but 8.13 is now a Bronze Medal at the London Olympics."

Adding, "I am the Master of the long Jump, I am the Beethoven of the long jump. I am the Bach of the long jump. If they said they were coming back to write some music, you would not doubt them. Don't doubt me. And the people who do doubt me, I say watch. I told my daughters that Daddy is going to the Olympics. I got to make it! That is my biggest motivation. It has to be done not only for my daughters, but for other people to know 50 is not old."

This comeback is not been an overnight decision, the decision dates back to when Mike was invited to participate in a celebrity TV Long Jump competition in Japan in April of 2013, - the country where he posted his iconic world record leap of 8.95m in 1991. In the audience was Carl Lewis, his long jump rival for so much of his career, and Willie Banks, his good friend and former triple jump world record holder. Mike was invited to jump against the veteran long jump holder in Japan a 37 year old man, sharing the experience on the day it all changed he recounted, "Here I was at 247 pounds jumping - like really jumping and two steps in and I am scared! Yet, because I was a World Record Holder and because I am Mike Powell, I jumped and I jumped a 5 Metres 80, which was not my best but good enough for Carl to tell me it was not bad. But that was when I decided that I was not going to be this person any more, I was never not -athletic and I head back home and I hit the treadmill, losing 35 pounds in six weeks."

Working towards qualifying in the middle of June for the American Olympic team, Mike is confident of reaching the 8.15 qualifying mark of Rio 2016, confidence based on the fact that he was currently jumping 8.30 meters easily and was not worried about meeting the mark, but about his body holding up at the age of 52. Continuing on, on his Olympic trials, Mike reinstated to the audience that he was not "trying"to get to the Olympics but he was "going to" the Olympics and knew that he would get there also knowing that at 8.30 he was a sure medal contender.

Mike Powell has always believed in himself and knew he could one day beat the World Record before he actually did, sharing that in the 1989 national championships, he did have a jump that was 8.90 but a foul jump and from then knew that breaking the World Record was within his reach. Narrating the night of August 1991, Mike said, "The thing is going into the competition, Carl had just broken the world record in 100 Metres. And the key ingredient to jumping far is running fast - so when he broke the world record in 100 metres, I knew I had to break the record in order to beat him. And on top of all that I hated Carl, he was my idol at first and then when I started competing, I need to demonize this guy to beat him and he was a living legend. So whatever he did, I turned into something positive! And we both came to the competition on that day we were both looking for the world record. Except I was looking for a World Record while being angry."