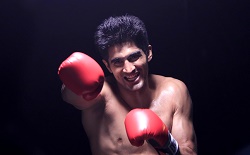 Bolton: Polish puncher Andrzej Soldra is on a mission to ruin Indian boxing superstar Vijender Singh's massive summer homecoming fight. The dynamite punching middleweight from Nowy Sacz in Southern Poland says it's his destiny to defeat the unbeaten hotshot Singh on Friday 13th. Singh and Soldra go head-to-head at Bolton's impressive Macron Stadium Premier Suite, live and exclusive on BoxNation.
Friday 13th has long been regarded as an unlucky day in the United Kingdom and a determined Soldra is promising it will be the night Singh's red-hot knockout streak comes to an end. More than 60 million people around the world are affected by a fear of Friday 13th and Soldra claims Vijender Singh is one of them.
Soldra, who has the edge in experience over Singh with 81 rounds under his belt compared to Vijender's 14, holds a record of 12-3-1 (5) and plans on spoiling the party when he makes his first appearance in England. Olympic star Singh will have to be at the top of his game if he is to overcome his biggest challenge to date.
"Friday the 13th is going to be a horror show for India's golden boy Vijender. It's about time his lucky streak came to an end and I'm going to be the man who delivers the knockout blow! He's had it easy up until now, us Polish are a different breed, and he's going to be in for a shock on Friday," said Soldra.
He added: "I'm on a different level to all of his previous opponents. I have a solid winning record and I'm not familiar with losing. These bums he has been fighting have been falling over but I'm coming to England to fight! When I start landing on him he's going to be in a whole world of trouble."