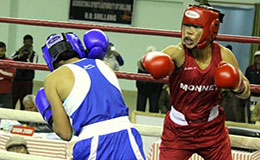 AIBA today announced its women boxers and R&J ambassadors for the eagerly anticipated event, the 2016 Women's World Championships in Astana, Kazakhstan.
From 19-27 May, the Kazakhstan capital of Astana will host more than 300 of the world's top female boxers for another thrilling edition of the AIBA Women's World Championships. With ten gold medals at stake, this year's tournament also has twelve Rio 2016 quota places available and offers one last glimpse at who could become Olympic legends.
AIBA has appointed eight ambassadors for the event, influential figures from inside the ring who embody the spirit of our sport. Representing the boxers are Nicola Adams of Great Britain, Team USA's light flyweight Marlen Esparza, MC Mary Kom of India, Adriana Arauja from host country of this year's Olympic Games Brazil, Bulgaria's Stanimira Petrova and Morocco's Khadija Mardi, while the female officials are Algerian Kheira Siki Yakoub and Canada's Jennifer Huggins.
MC Mary Kom's remarkable journey to winning five world flyweight titles has been the subject of a major biopic film, and Marlen Esparza had a CNN documentary filmed about her rise to becoming an Olympic bronze medallist in London. With Nicola Adams receiving an honorary degree from Leeds University, it is clear that the ambassadors have been selected for more than just their abilities in the ring, but for their position as positive role models for aspiring boxers and women in general.
source aiba.org