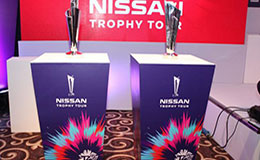 When the Indians were enjoying the trance of last night's prolific performance of Virat Kohli, the Aussie fans were heartbroken. Following the nail-biting match between India and Australia on March 27 on their journey to semis, Smith commented that it was all due to the inconsistent performance of the middle order batting line up. Australia lost to Dhoni and his men by six wickets. The audience at Mohali was lucky enough to witness such a terrific innings of Kohli.


Smith said that it was all due to an indolent performance of the middle order batsman that prevented Australia from posting a total score of 170 or above. That was what they wanted to put up as a target. They managed a total of 160 which the captain feels is quiet low to be a competent one.

As Smith won the toss and elected to bat first, they started off quite well as Australia raced away to 53 for no loss in only four overs. Usman Khawaja was quite well with his bat as he scored 26 which included 6 boundaries. Even Aron Finch was good enough with his performance as he scored 43 off 34 balls. Their batting line up lost its momentum soon after the dismissal of Khawaja and David Warner. Smith was dismissed to a caught-behind decision. He blamed the middle order for failing to utilize the post Power play overs.

"The middle overs is one part of our game that we are trying to work on," commented the captain. "When we get that right, we are a very dangerous side. For us, it's about making sure we find a way to play spinners in middle overs, getting off strike, not chewing up too may dot balls and waiting for the ball to hit to the boundary," the captain added.