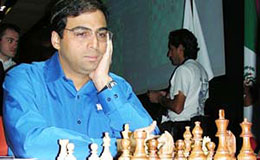 Moscow: A long game between Viswanathan Anand of India and Sergey Karjakin of Russia had a big impact on the standings. Karjakin was one of the co-leaders and Anand trailed by half a point. In the opening, Anand, who was White, used an anti-Berlin Defense system. Anand achieved a microscopic edge, but the most likely result seemed to be a draw. But Anand kept pressing and Karjakin began to make small errors.
Eventually the small errors added up to a significant edge for Anand and he won a pawn and then a second. The resulting endgame was hopeless, though it took a lot of maneuvering by Anand to break down Karjakin's resistance.
The win once again puts Anand in the lead, now with Caruana, while Karjakin is no longer among the leaders for the first time since early in the tournament. But Karjakin is only a half point behind the leaders so he still has a chance to recover.
Anish Giri of the Netherlands achieved another completely winning position, this time against Hikaru Nakamura of the United States. The opening was the quiet Italian game and Giri gradually outplayed Nakamura to achieve a complete bind in the center and on the kingside. Giri, who has been frustrated by his inability to win games in which he has a huge advantage, decided to be more aggressive and "went for the kill" as he said afterward in the press conference. But he had miscalculated and Nakamura has enough resources to beat off the attack. So Giri drew again, while Nakamura remains on -2.
The game between Levon Aronian of Armenia, who had been one of the co-leaders for several rounds, and Peter Svidler of Russia, who was on -1, was an odd one. Svidler, who was Black, executed his strategy to play solidly and trade off some pieces, but somehow Aronian still got a dangerous attack against Svidler's castled king.
Aronian is now a full point behind Fabiano Caruana of the United States with only three rounds to go. His chances of winning the Candidates may have been dealt a death blow. Meanwhile, Svidler finally recorded his first victory after having spoiled good positions several times earlier in the tournament.