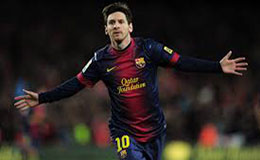 After winning against Arsenal in the second leg of last 16 of UEFA Champions League last night, Barcelona certainly seem to the best team at present. Let's analyse what's make this team the best and top contender for the coveted UEFA Champions League title and the La-Liga.
Barcelona: The best team again

Barcelona is the first team to win treble twice. After the sloppy 2013-2014 season, fans said they needed entire new team with new defence, mid field and strikers. Until January it played as a normal club, but thereafter the trio of MSN (Messi, Neymar and Suarez) rose to the occasion and fired goals consistently. With great front three, they seem to have a perfect team now.
MSN

Has there ever been better strikers in club football than Messi, Neymar and Suarez? Individually they are superstars; together, they are unstoppable and cover every attacking base, with Messi being the playmaker, Neymar, the ruthless crusader and Suarez, the hungry jack. The numbers speak for themselves. They are brutal, both, individually and collectively. For attacking players that high up the pitch, the sole criteria need to be GPG. And in terms of trios, this one is the best. They ended the last season with a combined total of 122 goals, making them the highest scoring attacking threesome in Spanish football history. They scored more than Real Madrid put together. Ronaldinho and Rivaldo, for all their individual brilliance, did not have scoring rates as high as MSN. Messi has been scoring a goal every game for the last 7 years and now Neymar and Suarez are crossing the 0.75 mark too. They are called "The three headed monster" for a reason.
Team Spirit

MSN score goals in company of each other and never look bereft of ideas. Barca's squad might be studded with stars, but the team spirit appears to be surprisingly harmonious. Barca look like a team happy to share the glory and taking genuine pleasure in each other's achievements – Neymar's first instinct after scoring his first against PSG was to congratulate Iniesta. Pique said: "You can't get better than winning like that, after January, when it looked like everything was falling apart. After five brutal months, beating some of the best teams in the world, the champions of England, the champions of Italy, Germany. The team suffered a lot. "That was demonstrated when it went to 1-1, we had 10-15 minutes when we were struggling. They attacked us a lot and, like I say, at the defensive level, we had to suffer, but up front with the talent these players have, they knew to take the chances so we could win the trophy". The young players like Sergi Roberto, Munir, Rafinha are getting many chances they can't expect in other teams. The way the youngsters are connecting with the team and the way Neymar and Suarez gelled together in a short time show how the team chemistry is built. It plays a significant role in the game.
Mid-field
They still have the best creators. Xavi might be on his way out, but write off Andres Iniesta at your peril. The Spain midfielder produced one of the finest assists of the season in the 2-0 against PSG, running 50 yards with the ball on his toes before giving a lovely pass to Neymar. It would have been plain rude for the Brazilian not to apply the finish to such a fluent piece of midfield play. It reminded everyone watching how Iniesta made passing a pleasure to watch. Then they have Arda Turan. He can increase the creativity aspect as well as add strength and courage to the team. They have Sergi Roberto on the bench. Messi is playing creative role in many matches. We can't see ant midfield like this in the current teams.
Real regressed

It is Barcelona's fate to be viewed through the prism of Real Madrid's performance, and in that context, there is only one winner at present. They are ahead of them by two points with one game in hand in La Liga and dismantled them in the recent El Classico at the Nou Camp with 0-4 and also in the previous Classicos' as well. While Real have been beset by off-field issues -- now with transfer ban, to players' form Gareth Bale, Rodriguez,Ronaldo, Benzema and sacking of Carlo Ancelotti, Rafa Benitexe later, Barca appear unflustered.
Luis Enrique

When he took over the job after a sloppy season, no one expected that Barca would win treble. But he did manage to do that with team. In Luis Enrique, Barca appear to have struck gold just like it did with Pep Guardiola. Like Pep, Enrique can claim that the club's traditions run through his veins – he made over 200 appearances for the club as a player and also managed their B side– and he has made managing one of the world's most starry squads look straightforward. His tactics are clear and uncomplicated. There have been few controversies under his stewardship and most important of all, he has set new standards in winning, eclipsing both Guardiola and Helenio Herrera in his first 50 games in charge. It has seemed like Barcelona has done so several times. Guardiola's teams killed opponents by a thousand tiny cuts, passing them into oblivion with short little dinks, until they'd been hypnotised into a drooling stupor and someone would be set loose to finally strike. Tito Vilanova's side did the same after Pep left the club. Tata Martino introduced some directness, expanding Barca's attacking repertoire. And Luis Enrique, this season, consolidated the two, employing both possession and swift counterattacks. In what was supposed to be a difficult season, the Blaugrana won 50 games, tied four and lost just six.