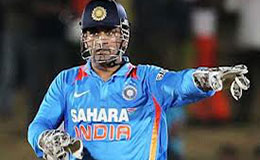 India vs Pakistan cricket match is like a situation where there is no space for personal issues and no talks about players as individuals. It's like each time the two teams play, the whole country sits and waits, praying for India's win. If there be poll about "Should the day of India Vs Pakistan be a national holiday" "YES" would be the answer.


Nothing excites the almost 2 billion people watching their country play their neighbour. The heartbeats stop. The movements in both countries come to a halt. And one can expect the same in the upcoming T20 clash on March 19.

Both teams are ready to take on each other. While team India once again lost against New Zealand, Pakistan on the other hand beat Bangladesh comfortably riding on the performance from the one and only BOOM BOOM Afridi who at last came good with, both, the bat and the ball.

India on the other hand will try and capitalise on the pressure on Pakistan to win their first match against India in a world cup. The "Mauka Mauka" ads have started surfacing again and are adding spice to the already tasty cuisine of the match. The icing on the cake would be India winning the match and taking their lead further to 5-0 in a T20 match. India will not bank on a single player and each and every player will need to give their 100% to take the match in their favour.

We wish Dhoni and company show why they are the favourites in the World Cup campaign. It won't be easy, but the win will give the team a boost they need right now.