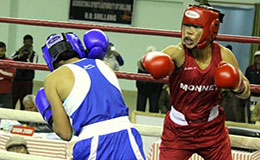 SHILLONG: Strongest contenders India are confident of a good show in boxing at the 12th South Asian Games which kicks off on Saturday.

Indian coach, GS Sandhu said that the team is going for the best but put in a word of quiet caution stating that one cannot take anything for granted in boxing.

"In one odd weight Pakistan, Sri Lanka or even Bangladesh may do well. Anyone can win a bout on a given day," he said.
Reacting to a query on whether participating for the SAG will in any way affect the pugilists' Olympics qualifier preparations, Sandhu said taking part in competitions is always good for boxers who need to test themselves from time to time.

"It is just one more exposure before the Olympics, players need to compete apart from training," the Indian coach said.

The Indian boxers have been training at NIS Patiala all this while.

Sandhu also said that the weather in Shillong was just a bit more cold than Patiala, but it would not create any problem for the boxers.

Apart from Maldives all other South Asian nations are taking part in the event.

A 10-member Indian team will take part in the event. The elite women's team will be spearheaded by Olympian MC Mary Kom in the 51 kg category, while L Sarita Devi (60 kg) and Pooja Rani (75 kg) are the other two frmale boxers in the squad.

The elite men's team consists of L Devendro Singh (49 kg), Madan Lal (52 kg), Shiva Thapa (56 kg), Dheeraj (60 kg), Manoj Kumar (64 kg), Mandeep Jhangra (69 kg) and Vikas Krishnan (75 kg).

Talking about Oympics qualification, Sandhu said he will be happy if four-five boxers from India make the cut.

He clarified that qualifying for the Olympics now was not as easy as earlier due to a change in the system.

"Earlier there was no quota for World Series of Boxing and APB but now 63 seats are reserved for them," Sandhu said adding that before quarterfinalists of world championships used to make the cut but now even medalists are left high and dry at times as India does not have any boxer at WSB and APB at the moment.

Olympian MC Mary Kom was also confident that the Indian side will shine in the event.

"We are trying our level best to get the gold medals; we are expecting a gold from all the athletes," the five-time world champion said.
The change in rules for qualifying for the Olympics does not bother the NE sport icon much. "I am trying my best to qualify, the change of rules etc. should not bother me, I have to do my job," she said.

Mary Kom, however, admitted that winning a medal at the biggest event, Olympics, always gets tough with time.