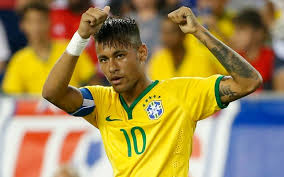 Neymar is ready to set superior records than his teammate Lionel Messi and his El-Classico rival player Cristiano Ronaldo.

The Argentine No. 10 and Portuguese No.7 are considered as the best players of this era. Since 2008, both had won eight Ballon d'Or -- Messi five times (2009, 2010, 2011, 2012, 2015) and Ronaldo three times (2008, 2013, 2014).
However, comparing Ronaldo and Messi with Neymar at his age (23) shows that Ronaldo and Messi had scored 186 & 127 goals, respectively, whereas Neymar has 249 goals: 136 for Santos, 67 for Barcelona & 46 for Brazil to his credited and was also nominated for Ballon d'Or 2015.

The former Brazilian and Real Madrid star Roberto Carlos says, "When I am asked about Messi and Cristiano, I say that Neymar is the best for me." He also added that "Neymar is going to have a Ballon d"Or in one or two years because he is deserves it."

As compared to Messi and Ronaldo on the pitch, he has a disadvantage at Barcelona as the team is not built around him as has been the case with Messi. The 23-year old is surviving as the second winger but still scoring and giving his best for the team. Neymar is a selfless forward and knows football is a "team game", which does not seem to be the case with Ronaldo.

Though Neymar has far less experience compared to these two, he seems to have higher work ethics. Though, it's Ronaldo and Messi at present, it not far away when Neymar could easily better the Portugese winger and the Argentine forward.