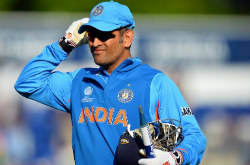 New Delhi: If India sweep the the three-match T20 series against Australia, then it will move to top position in the ICC T20I rankings. In the lead-up to the ICC World Twenty20 India 2016, Australia and India will play three T20Is on 26, 29 and 31 January, the UAE will host the Netherlands for a T20I on 3 February, South Africa will face England in two T20Is on 19 and 21 February, the Asia Cup T20 tournament will be held from 24 February to 6 March, while South Africa will host Australia for three T20Is on 4, 6 and 9 March.

When Australia hosts India next week in Adelaide, it will need to win the series to claim the number-one position. In case of a 2-1 win, Australia will move to 120 points and India will remain eighth, while a 3-0 win will put Australia on 124 points and India on 103 points.

However, if India sweeps the three-match series, then the two sides will swap places. In this scenario, India will vault to number-one with 120 points while Australia will plummet to number-eight with 110 points. If India wins 2-1, then Australia will slip to sixth and India will move to seventh.

Meanwhile, in the ICC T20I Team Championship table, New Zealand has leapfrogged South Africa and Pakistan into fifth position. The series win has given New Zealand two points, while Pakistan has dropped one point.
In contrast, Bangladesh has dropped behind Scotland to 11th position after the drawn series meant it conceded five points. Zimbabwe has retained its 14th position but it has collected four points.

Bangladesh and Zimbabwe are in different first-round groups of the ICC World Twenty20 India 2016. The two sides, along with six qualifiers, will lock horns from 8 March in Nagpur and Dharamsala with the table-toppers progressing to the second round, which will start in Nagpur on 15 March.

With only eight points separating number-one ranked West Indies from eighth-ranked India, the ICC World Twenty20 India 2016 is shaping up to be a wide open event with any of the top-ranked sides capable of lifting the trophy in Kolkata on 3 April.
MRF TYRES ICC T20I TEAM CHAMPIONSHIP (as on 22 January, after the conclusion of New Zealand-Pakistan and Bangladesh-Zimbabwe series, and before the start of Australia-India series)
RANK TEAM POINTS
1 West Indies 118
2 Australia 118
3 Sri Lanka 118
4 England 117
5 New Zealand 116
6 South Africa 115
7 Pakistan 113
8 India 110
9 Afghanistan 80
10 Scotland 66
11 Bangladesh 64
12 Hong Kong 61
13 Netherlands 61
14 Zimbabwe 54
15 Ireland 42