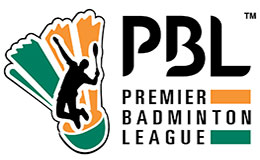 New Delhi: Post the Premier Badminton League Players Auction 2015, where top players were auctioned amongst the six franchises, Badminton Association of India today announced the match schedule for the much awaited League. The Premier Badminton League, which will be a 16-day long thrilling event, is scheduled to take place from 2nd January till 17th January 2016.
The six franchisees will tussle against each other for the top honour in five cities – Delhi, Lucknow, Mumbai, Hyderabad and Bengaluru. The PBL will not host any match in Chennai due to the recent flood, which delayed the preparation for the mega event. The home matches of Chennai Smashers will be played at Lucknow and Hyderabad venues.
The opening day will witness Mumbai Rockets playing the opening match against Awadhe Warriors. While all eyes will be on World No. 2 Saina Nehwal who will feature for Lucknow-based Awadhe Warriors it will be interesting to see the strategies that Mumbai Rockets adopt to counter her. Also with the new rule of the 'Trump Match' that is getting introduced in the League, other franchisees will keep a check on how both the teams will use the new rule to their benefit and which will form as a learning for the rest in the forthcoming matches.
Speaking on the schedule of the League, Dr. Akhilesh Das Gupta, President, Badminton Association of India & Chairman PBL stated: "This is a happy moment for each one of us as we are just around the corner for the start to the Premier Badminton League. Each day will be exciting and this we have ensured by the new Format & Rules that we have introduced. What has boosted us is the enthusiasm that the franchisees are showing towards the 'Trump Match' rule. Post PBL Auction, all the players are gearing-up for one of the most competitive Leagues in the world. With the release of the schedule, teams will start working on their strategies and game-plans. The tournament will start from Mumbai with a magnificent Opening Ceremony and conclude in Delhi with the Grand Finale."
The rousing action will kick-start on 2nd January, 2016 and the Grand Finale will take place here in Delhi on 17th January, 2016. While Indian badminton players are engraving their names across the world, the Premier Badminton League will bring together India's top badminton players along with international players on the same platform wherein they will showcase high-class action in front of the sports loving citizens of India.
Match Schedule
| | | | |
| --- | --- | --- | --- |
| Date | Venue | Afternoon-tie | Evening-tie |
| 2nd Jan | Mumbai | | Mumbai Rockets – Awadhe Warriors |
| 3rd Jan | Mumbai | Hyderabad Hunters –Bengaluru Top Guns | Mumbai Rockets – Chennai Smashers |
| 4th Jan | Lucknow | | Awadhe Warriors - Delhi Acers |
| 5th Jan | Lucknow | Chennai Smashers - Delhi Acers | Mumbai Rockets – Bengaluru Top Guns |
| 6th Jan | Lucknow | | Awadhe Warriors – Bengaluru Top Guns |
| 7th Jan | Delhi | | Delhi Acers - Hyderabad Hunters |
| 8th Jan | Delhi | | Delhi Acers - Bengaluru Top Guns |
| 9th Jan | Hyderabad | | Awadhe Warriors – Hyderabad Hunters |
| 10th Jan | Hyderabad | | Chennai Smashers –Hyderabad Hunters |
| 11th Jan | Hyderabad | Mumbai Rockets – Hyderabad Hunters | Awadhe Warriors – Chennai Smashers |
| 12th Jan | Break | Break | Break |
| 13th Jan | Bengaluru | Mumbai Rockets – Delhi Acers | Chennai Smashers - Bengaluru Top Guns |
| 14th Jan | Bengaluru | NA | Semi-Finals – 1 |
| 15th Jan | Hyderabad | NA | Semi-Finals – 2 |
| 16th Jan | Delhi | function | function |
| 17th Jan | Delhi | NA | Finals |