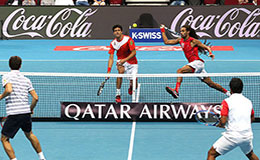 Manila: The opening match of the Manila leg saw the OUE Singapore Slammers win 29-20, a terrific margin that will help their points tally in the league standings. A win still evading the Legendari Japan Warriors, it was power-packed tennis all the way.
Tennis fans eager to catch the IPTL lined up the Mall of Asia Area from early afternoon. As the gates opened, there was a flood of fans all excited to see their favourite tennis stars in action. With DJ Irie's foot-tapping music, tennis action began to a thunderous applause.
Match Summary:
- The legends kicked off the afternoon, with Moya and Safin receiving loud cheers. Matching each other stroke for stroke, Moya got the better of the two winning the match 6-4, but it was difficult to tell which of the legends was more popular
- Men's double gave the Warriors their first set win with Paes/Herbert winning it 6-5 in a super shootout, setting the score at 1 set all
- In the women's singles, Belinda Bencic over-powered the young Kurumi Nara, and even a mid-set substitution with Mirjana Lucic could not help the Warriors take the lead. With a 6-2 win, the Slammers taking their lead to 2-1
- Up next, the men's singles was a thrilling encounter with Krygios – Kohschreiber providing some power-packed tennis to the fans. In an evenly contested encounter, Krygios won it 6-5 for the Slammers in a shoot-out
- The mixed doubles saw a super-charged Kyrgios/Bencic take on Lucic/Herbert from the first ball itself, winning the set 6-3 for the Slammers
What the Players said:
Marat Safin: "I am taking a bit more time getting used to the format, its making me nervous and not allowing me to play the way I do. I feel bad for my team, they have hopes on me, and there is pressure for us to win! The rest of the players have an advantage, most of them played last year, and they are used to it." On playing in front of a packed Manila crowd he said, "the crowd was great, they were cheering us, and really motivating us to play well!" on Manny Pacquiao announcing his decision to enter politics, he added "It's a good thing he has done. It's good for the country, for youth, for the economy, for tourism. He just has to be patient. He can pick a fight with just his hands, but I am not allowed to take my racquet in the senate!" he added on a lighter note.
Nick Kyrgios: "I love the game, the format. Last year I played Andy Murray here, and it was one of the best matches for me. The crowd in Manila is great, we had a lot of fun here last time, and I was really looking forward to playing in Manila again. I've played a lot of junior tennis here, and so it feels good." On his aggression and anger, he added "I am not an angry person. I'm very calm by nature. I play to win, I play to compete – whether on the tour or in the IPTL. My aggression adds good energy to my game, and I like that!"
Match Scores:
MANILA

Day 1 | 6th Dec'15

Match 7 | 4pm

Home Team

SCORE (GAMES)

Away Team

OUE Singapore Slammers

Coach: Purav Raja

29

20

Legendari Japan Warriors

Coach: Josh Eagle

MEN'S LEGENDS SINGLES

Carlos Moya

6

4

Marat Safin

MEN'S DOUBLES

Brown / Melo

5

6

Paes / Herbert

WOMEN'S SINGLES

Belinda Bencic

6

2

Kurumi Nara & Mirjana Lucic (substitution)

MEN'S SINGLES

Nick Krygios

6

5

Philip Kohlschreiber

MIXED DOUBLES

Bencic / Krygios

6

3

Lucic / Herbert