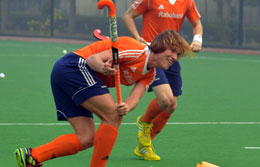 Raipur: The final match on the opening day was also in Pool B, as Germany and the Netherlands battled to a 0-0 draw in a rematch of the EuroHockey Championship Final.
The last meeting between the teams saw the Netherlands power to a 6-1 win to claim the European title, but today's match was all about the defensive lines.
Both goalkeepers were in sparkling form in the game, with Germany's Nico Jacobi making a number of world class saves while Stockmann was deservedly named Hero Man of the Match.
"It is always good to play against the Netherlands at a tournament like this on the way to the Olympic Games", said Germany midfielder Tobias Hauke. "I think it was interesting today after our last meeting in the EuroHockey Championship Final, where we lost pretty hard. It was important to see today, with different teams of course, that we are close now and it was a hard game for both sides."
Regarding Germany captain Moritz Fürste, who left the field with a knee injury, "It looks ok, but we will have to see. It certainly seems better that we first thought, but he will be assessed."
Netherlands Head Coach Max Caldas said that Germany were arguably the better side in the first half, but was happy with his team's display in the second period. "I am a big fan of the German players and the German style, and always look forward to playing them", said Caldas. "It was a tough game but I think we took more control in the second half, although our goalkeeper saved us a little bit in the first half."
Hero Man of the Match: Jaap Stockmann (GK - NED)