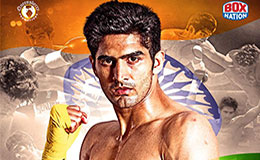 Dublin: Hollywood movie executives will be watching Indian boxing star Vijender Singh at ringside this Saturday night at the National Stadium in Dublin as they look to cast him in a blockbuster action film.
Vijender Singh provided plenty of action in his scintillating three round destruction of Sonny Whiting in his professional debut last month which caught the eye of a world-renowned film director who believes that the boxer could have a role in his forthcoming action epic.
The 30-year-old from Haryana is no stranger to the movie world in his homeland where he is a national icon and has already starred in the hit Bollywood film Fugly and has also appeared on the reality TV show MTV Hero Roadies X2, but Singh could now be destined for the big screen and the bright lights of Hollywood.
While the executive in question wishes to remain unnamed at this stage and does not want to reveal too much as it is still in an exploratory phase, he is excited by Vijender Singh and believes he can become a mega crossover star like Asian stars Bruce Lee and Jackie Chan.
He said, "I'm very excited by Vijender and his potential and we're looking forward to seeing him up close on Saturday night and taking it from there. I've only seen his first fight and being a boxing fan, that was something special and some of my close associates also mentioned it. He's got a special commanding presence and aura about him in the ring, likes he's the king of the ring, and I think that it could transfer onto screen, who knows, we just want to see him on Saturday first and we're hoping for another exciting performance."