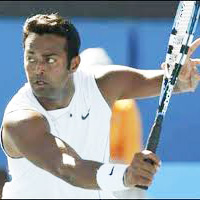 Indian tennis is going through the worst phase and it is not the on-field action that is letting the nation down, but the off-field activities involving India's top players, including Leander Paes, Mahesh Bhupathi and Rohan Bopanna. Beijing Olympics for us was a pretty successful keeping in mind the horrible times that we saw in the past Olympics. In China India won three individual medals and with the number of players who have qualified for the biggest sporting event to be held in London, things were looking good.

But everything changed with the recent development in Indian tennis. The bonhomie that had been generated till few days ago took a back seat amidst the controversies that engulfed Indian tennis. Players are terming each other backstabbers and have been putting their egos in front of the national interest and the whole of positive energy that surrounded the Indian Olympics campaign has gone out missing.
What Mahesh Bhupathi and Rohan Bopanna did was unthinkable. They virtually blackmailed the All India Tennis Federation (AITA) and got what they wanted. Their stubborn attitude may have got them what they were looking for, but the trouble has not yet ended. Leander Paes, who was to be the flag-bearer for India, might not even take a part in the Olympics. AITA has sent one of their national selectors to convince him to play with Vishnu Vardhan, but there are reports that Paes has refused to meet him.

Everyone has had enough and the tennis drama seems to be a never ending one. It is a known fact that Leander Paes has always put his country ahead of himself and he should do it one more time. Let's look at some of the reasons why Paes should team up with young Vishnu and bear the Indian flag in London.
No faith and compatibility between Bhupathi and Paes:
AITA's first decision was to pair these two very experienced players, but Bhupathi openly refused and even Paes did not want to be paired up with Bhupathi and instead wanted to partner Bopanna. In doubles the partners must have trust and faith on each other. Going by what has happened between the two, one can say that they will never have the compatibility between them. It is a known fact that the pair of Paes and Bhupathi, which was once the number one pair in the world, does not go hand-in-hand. The two don't meet eye-to-eye and have not been in talking terms, so no point playing together.

Bhupathi-Paes record in Olympics is bad:
Together they have competed four times and they have returned empty-handed on each occasion. When the camaraderie between the two players was good and they were the number one team in the world even then they were not able to create an impression in the biggest sporting event of them all. Paes should team up with Vishnu as maybe that can change the fate of the Indian doubles team in Olympics.

Vishnu will gain a lot playing with Paes:
Vishnu Vardhan has idolized Leander Paes since the time he started playing tennis and one can only think what he will gain playing alongside his idol in the biggest event of them all. Paes should realize that every youngster needs a chance and it is the responsibility of the senior players to provide them that chance. There could nothing be bigger than playing in Olympics and it can really do wonders for young Vishnu. Paes should know that Vishnu's playing style is like Bopanna's with big-heavy serves and hard ground strokes and he should give him a chance. One can only assume what affect it will have on Vishnu if Paes denies teaming up with him.

Sending two teams does make sense:
Since two teams have qualified from India for the mega event, why waste that chance. In anyway since there is no faith and compatibility left between Leander and Bhupathi, it's better for the world no. 7 to team up with Vishnu and let Bhupathi pair with Bopanna as the duo have been practicing for the event for months now.

Peas can bring the glory with Sania Mirza:
Realistically speaking India's chance of winning a medal in the doubles category is not bright, they will be competing against world's best, everyone from Bryan Brothers to Noval Djokovic, Rafael Nadal, Roger Federer and others will be competing in that category. The best chance for India in Tennis is in the mixed doubles category. Here there will be only 16 teams and two wins can take a team into the semis. AITA has already made clear that only Leander will be teamed up with Sania and no one else. The list has already been sent and even if Sania wins the Wimbledon with Bhupathi the decision would not change. Paes would desperately want to prove a point and it is his best opportunity to do that.

Patriotic Paes should do it one last time:
Leander Paes has been very patriotic since the time he picked up his racquet. He has lifted his game whenever he has played for his country, one cannot forget what he did for India in the Atlanta Olympics and what he has done on numerous occasions in the Davis Cup. He is arguably the best tennis player that India has produced and he should not disappoint his fans by not going. Indian tennis team will not be complete without him and he will know it. It will most probably be his last Olympics and he should try to make the best of it.