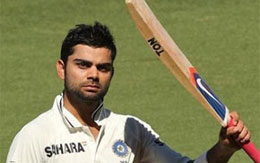 Mohali: The very best of Test cricket continues this month when number one-ranked South Africa locks horns with fifth-ranked India in a four-match series and number two-ranked Australia hosts sixth-ranked New Zealand in a three-match series, including the first-ever day/night Test in Adelaide. Both series will begin on Thursday, 5 November.
These four sides, as well as third-ranked England and fourth-ranked Pakistan, who are battling for supremacy in the Sharjah Test, are separated by just 26 points on the ICC Test Championship.
But all this could change, depending on how the three series pan out.
If Pakistan wins the final Test, then it will move marginally ahead of Australia into second place for the first time in nearly in a decade, while England will drop behind New Zealand to sixth position by a fraction of a point. In the case of England winning the Test, both sides will retain their pre-series rankings and points.
The ICC Test Championship table will then be updated at the end of Australia-New Zealand series, which means Australia will have to win the series by 1-0 or better to ensure it stays ahead of Pakistan (if Pakistan wins 2-0). In this series, Australia can rise to as high as 110 points, but can also drop to as low as 99 points.
In contrast, New Zealand will gain seven points if it wins 3-0 but will slip to 94 points if Australia sweeps the series.
The next update of the ICC Test Championship table will take place following the conclusion of the India-South Africa series.
In this series, India will have an opportunity to climb to second position, a fraction of a point behind South Africa. However, to make it happen, it will have to win all four Tests. On the other side of the coin, South Africa will vault to 130 points and India will plummet to 96 points if the visitors win all four Tests.
The following are the series permutations:
| | | |
| --- | --- | --- |
| Pak v Eng scenarios | Pakistan points | England points |
| Pre-series | 101 (4th) | 102 (3rd) |
| Pak 2 Eng 0 | 106 | 99 |
| Pak 1 Eng 1 | 101 | 102 |
| Pak 1 Eng 0 | 105 | 100 |
| | | |
| --- | --- | --- |
| Aus v NZ scenarios | Australia points | New Zealand points |
| Pre-series | 106 (2nd) | 99 (6th) |
| Aus 3 NZ 0 | 110 | 94 |
| Aus 2 NZ 0 | 109 | 95 |
| Aus 1 NZ 0 OR Aus 2 NZ 1 | 108 | 97 |
| Aus 0 NZ 1 OR Aus 1 NZ 2 | 102 | 103 |
| Aus 0 NZ 2 | 101 | 105 |
| Aus 0 NZ 3 | 99 | 106 |
| Aus 1 NZ 1 | 105 | 100 |
| | | |
| --- | --- | --- |
| Ind v SA scenarios | India points | South Africa points |
| Pre-series | 100 (5th) | 125 (1st) |
| Ind 4 SA 0 | 112 (2nd, by fraction of a point) | 112 (1st, by fraction of a point) |
| Ind 3 SA 0 | 110 | 114 |
| Ind 2 SA 0 OR Ind 3 SA 1 | 109 | 116 |
| Ind 1 SA 0 OR Ind 2 SA 1 | 107 | 118 |
| Ind 0 SA 1 OR Ind 1 SA 2 | 101 | 124 |
| Ind 0 SA 2 OR Ind 1 SA 3 | 100 | 126 |
| Ind 0 SA 3 | 98 | 128 |
| Ind 0 SA 4 | 96 | 130 |
| Ind 2 SA 2 OR Ind 1 SA 1 | 104 | 121 |