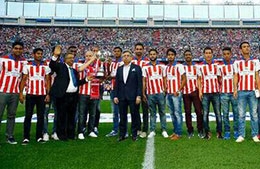 Kolkata: Atletico de Kolkata and Kerala Blasters will be momentarily distracted by the presence of the greatest footballer of all time as they look to get back on winning track in their Hero Indian Super League (ISL) clash at Salt Lake Stadium, Kolkata, on Tuesday.

Pele, considered the best player of all time, is currently on his second visit to Kolkata and will be a honoured guest when last year's finalists take on the might of each other.

Pele's presence is sure to get the best out of these two teams, both of who are on four points at the end of the second round. Not that either of the team will be short of any motivation, especially since they could only manage a draw in their last game.

"Four points in two games in any league at the start is a good result. Draw against the top team is not a bad result. At times draw is what is okay and I think it's a fair result," Kerala Blasters coach Peter Taylor said after his team managed a 1-1 result against Mumbai City FC at home.

Taylor has been in the business of football for long enough to understand that the league format of quick matches means you have to count upon a bigger group of players. Fresh legs can do a world of good and the coach is expected to continue with his rotating policy.

Mohammed Rafi and Josu Currias who did not start the last game after excelling in the opener will be considered for a place in the starting eleven.

Atletico de Kolkata coach Antonio Habas has to do the juggling act, thanks to the growing list of injuries and suspension of Baljit Sahni, who was sent off in the last game against FC Goa. Marquee player Helder Postiga is out for a month and will miss at least another four games, while Rino Anto and Arnab Mondal sat out of the last game through injuries.

"All we can do is play our football. I have to recover my team and look forward," said the Spanish coach.

Atletico de Kolkata play their first match at home after playing two consecutive matches away. Habas said he would ideally loved to have all six points but had no complaints with the way his team shaped up in the last two away matches.

"Chennai and Goa were two very tough away fixtures and we got four points. It's pretty good," said Habas, who now has a chance to move to the top with a win against a team they defeated in last year's ISL final.