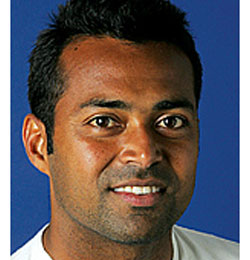 Name: Leander Paes

Discipline: Professional Tennis Player features in doubles and ATP tours

State: Place of birth Kolkatta,Present place of residence Kolkatta,Mumbai,Orlando and Florida

DOB : 17th June 1973
Major Achievements:
- Won the 1990 Wimbledon Junior title.
- Won the Wimbledon and the French Open Doubles title in 1999.
- Won Bronze medal in the 1996 Atlanta Olympics.
- Received Rajiv Gandhi Khel Ratna Award in 1996.
- Carried the tricolor at the 2000 Sydney Olympics opening ceremony.
- Received Padma Shri Award in 2001.
Currently ranked at no. 5 in the Doubles category.
Grand Slam Success Record
Men's doubles

Year Championship Partner

1999 French Open Mahesh Bhupati
1999 Wimbledon Mahesh Bhupati
2001 French Open Mahesh Bhupati
2006 US Open Martin Damm
2009 French Open Lukas Dlouhy
2009 US Open Lukas Dlouhy
2012 Australian Open Radek Stepanek
2013 US Open Radek Stepanek
Mixed Doubles
1999 Wimbledon Lisa Raymond (USA)
2003 Australian Open Martina Navaratilova (USA)
2003 Wimbledon Martina Navaratilova (USA)
2008 US Open Cara Black
2010 Australian Open Cara Black
2010 Wimbledon Cara Black
2015 Australian Open Martina Hingis
2015 Wimbbledon Martina Hingis
2015 US Open Martina Hingis
Profile:

Leander Paes was born on 17 June 1973, in Calcutta, India. Belonging to the Goan Catholic community in Calcutta (the present day Kolkata), his parents - father Vece Paes and mother Jennifer Paes were sportspersons. Vece was a midfielder in the Indian field hockey team, while Jennifer was a basketball player. Leander Paes attended La Martiniere School and graduated from St. Xavier's College in Calcutta. Thereafter, he was enrolled into the Britannia Amritraj Tennis Academy in Madras in 1985, where he was given training by Coach Dave O'Meara. Paes sharpened his skills in tennis by practicing at the Academy.
Leander Paes has many memorable triumphs to his credit, both at the national and international levels. The Wimbledon Junior title and US Open Champion has brought laurels to the country, in his career spanning over a decade. In the past, he paired with another veteran Indian player - Mahesh Bhupathi - to deliver some enthralling performances. Paes is the inspiration to the young Indian tennis players. He is one of the most successful professional Indian tennis players, known worldwide for his amazing achievements and the aggressive attitude that he maintains, while on the tennis court.
The academy where he started off his initial training played a key role in his early development. Leander shot into international fame when he won the 1990 Wimbledon Junior title and rose to No. 1 in the junior world-rankings. Paes is the great grandson of the Bengali poet Michael Madhusudan Dutt. Previously having dated Bollywood actress Mahima Chaudhary, he is now married to Rhea Pillai (ex-wife of bollywood actor Sanjay Dutt) and has a daughter Aiyana Paes.

Leander Paes's off and on partnership with fellow Indian tennis player Mahesh Bhupathi draws constant media attention in his home country, India. In the 2006 Asian Games, a loss to the Chinese Taipei in the team event led Leander to question Bhupathi's commitment to Team India. He once stated in an interview that although he and Bhupathi are friends, he did not consider pairing with his former team-mate. ]However, for the 2008 Beijing Olympics, they decided to play together for their country, In 2010, they reunited as doubles partners in the Thailand Open (an ATP 250 tournament) but eventually been eliminated in the first round.
Leander Peas is the epitome of true sportsmanship and continues to maintain that spark whenever his on the court.His fans continually supports him and the nation loves him for he has won laurels for the country for more than a decade.