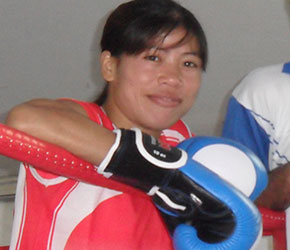 Adversity brings the best out of you provided you are prepared to fight and MC Mary Kom is a perfect example of this. The most successful Indian woman boxer, holding five world championship titles, was no different from a commoner belonging to a small village of Manipur. But she transcended all the hardships and challenges and gave Indian women boxing a new identity and is now a role model to the youth of the country.
From attacking the opponents with power punches in the ring to playing the role of a good mother, she has been managing all very well. Presently practicing in Patiala in her quest for gold in 2012 Olympics, the champion pugilist says her real test lies ahead. "It's the first time that women's boxing is has been included in Olympics and I'll be contesting in flyweight (48-51kg) category. It's a real test now. I'm excited and living for my dream to earn gold in 2012 Olympics. The first time I played in the 51kg weight category was the Asian Games 2010. It doesn't matter to what category you play. It's just a matter of right training and will power," says Mary Kom, adding that she wasn't isn't following any different approach for the mega event.
"Well there is nothing special that I'm doing. Right now I m in Patiala, training the same way I always do. What I believe is to fight with own self to better the future performances. Right now I'm working hard for the President's Cup to be held in Turkey later this year," informs the boxer, who initially started with athletics before switching over to boxing.

"From childhood, I was always attracted towards sports. I used to watch all the matches on TV, specially professional and amateur boxing. Yes, athletics was my first choice but it was boxing which attracted me more. It's been 11 years in the ring and the journey is still on," says the mother of two, who fought all odds to reach to this status.

"I belong to a farmer family, but my humble background never deterred my will-power. I always wanted to be a sportsperson and here I'm today. I had faced a lot of problems in the early days but I struggled wellhard. My father and mother, who were initially against my decision to take up boxing ventures, as they considered it to be a dangerous game, supported me in all the ups and downs of my life. They worked hard to provide me with enough facilities. It is their sacrifices and support that had gone in the making of Mary Kom," reminisces the champion, adding that her initial training days at her native place were full of challenges.

"Those days were quite challenging. However things got better when I shifted to Imphal. I was under the training of some of the finest coaches -- Manipur state coaches, Narjit Singh and Kishan Singh -- who taught me the finer details of the sport. With my winning at the state and then national level, things got really better in all respects," says Mary Kom, who was inspired by the success of Dingko Singh to take on this sport.

"Muhammad Ali has been a great inspiration and amongst the Indian boxers, it is Dingko Singh who really inspired me to work hard and win laurels for the country," remembers the boxer.

Quite happy with the adulation she has been receiving from the Indian public, Mary Kom knows that there is no dearth of her detractors and she wants to prove her critics wrong by winning a medal in London Olympics. "I'm thankful to all the people who have been supporting me in all the circumstances, whether it's a victory or a defeat. The government and associations have been quite instrumental in supporting me. At the same time, there are plenty of people who have been criticizing my boxing endeavours. They think that now being married and a mother of two, it's better to sit back and that I won't be able to give my best. Contrary to it, I'm just focusing on 2012 Olympics and I want to answer all the critics with my performance. That's a real challenge for me," says the champion, who has started a boxing academy in her home state with a desire to produce future champions like her.


"It is the MC Mary Kom Boxing Academy based in Manipur, which was instituted in 2005 with the sole idea of churning out boxing champions. Right now there are about 30-35 players who are training under one coach in the academy. Also, 20 players are provided with the accommodation and food facilities for free. The Manipur government has said that it will provide two-acre land for the extension of the academy," she informs, adding that that managing everything -- boxing, family, children & academy – isn't an easy job.

"It's not easy. I get little time for family but I'm fortunate enough to have a great husband who takes care of the things outside the ring. I miss home and children. It's challenging, but I have been managing it well with the support of my husband," says the champion, adding that the role of Olympic Gold Quest has been immense in her boxing career.

"It has been tremendous. The treatment I have got and the facilities provided to me have played a major role in bringing out the best in me. All the requirements are taken care of. I'm even provided with a personal physiotherapist. Time and again foreign coaches are also invited to train us. Apart from OGQ, Sahara and Emami are also sponsoring me," informs Mary Kom, with a message to all her fans. "Believe in yourself and give your best shot. God never lets hard work go waste. Believe in god and your own self, success will never be far."


Achievements:

International

• Ist Asian Women Boxing Championship (AWBC), Bangkok 2001
• 2nd AWBC, Hissar, Haryana 2003
• 3rd AWBC, Kaohsing City, Taiwan 2005
• Silver medal - 2001 Women's World Amateur Boxing Championships, Pennsylvania, USA.
• Gold medal - 2002 Women's World Amateur Boxing Championships, Antalya, Turkey.
• Gold medal - 2005 Women's World Amateur Boxing Championships, Podolsk, Russia.
• Gold medal - 2006 World Women's Boxing Championship, New Delhi, India.
• Ist WWB Tournament, Norway 2004
• Venus Cup International Women Box Tourn, Vejla (Denmark ) 2006
• Gold medal - 2008 AIBA Women's World Boxing Championship, Ningbo, China.
• Gold medal - Asian Women's Boxing Championship, Astana, Kazakhstan.
• Bronze medal - 2010 Asian Games, Guangzhou, China[8]
• Gold medal - 2010 AIBA Women's World Boxing Championship, Barbados.
• Arjuna Award (Boxing) 2004
• Padma Shree (Sports) 2006
• Contender for Rajiv Gandhi Khel Ratna Award 2007
• People of the Year- Limca Book of Records 2007
• CNN-IBN 'Real Heroes' Award 2008
• 'Magnificent Mary', AIBA 2008
• Rajiv Gandhi Khel Ratna 29.8.2009 Sat, New Delhi
• Int'l Boxing Association's Ambassador for Women's Boxing 2009
• Sportswoman of the year 2010, Sahara Sports Award 2010
6th AIBA Women World Boxing Championship 2010,Gold Medal
5th Asian Women's Boxing Championship 2010,Gold Medal

National

• Gold - Ist Women Nat. Boxing Championship, Chennai 2001
• The East Open Boxing Champ, Bengal 2001
• 2nd Sr World Women Boxing Championship, New Delhi 2001
• National Women Sort Meet, N. Delhi 2001
• 32nd National Games, Hyderabad 2002
• 3rd Sr World Women Boxing Champ, Aizawl 2003
• 4th Sr WWBC, Kokrajar, Assam 2004
• 5th Sr WWBC, Kerala 2004
• 6th Sr WWBC, Jamshedpur 2005
• 10th WNBC, Jamshedpur lost QF by 2009
57th India Police Meet, Gold Medal, 2010
By Akshi Aggarwal
Indian Sports News