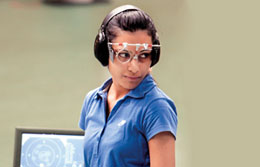 New Delhi: Heena Sidhu created history by winning the gold medal at the ISSF World Cup FINALS in Munich, Germany. This is the first time a pistol shooter from India has won a medal in this competition. The ISSF World Cup is held once a year where ONLY the top ten shooters of the world compete and earlier in small bore shooting Rifle Shooters Anjali Bhagwat [2002} and Gagan Narang [2008] have won this highly prestigious competition.
Heena, who married Commonwealth Games Gold Medalist Ronak Pandit son of Arjuna Awardee Ashok Pandit early this year and shifted from Patiala to Mumbai has been in great form. She qualified for the 'Finals' in the world cup in Korea and Germany in April and May. However she had not still got her grip on the new format of the Finals, introduced by the International Sports Shooting Federation on the 1st of January 2013, due to which she slipped from 2nd to 8th position in both these matches.

Today Heena shot a satisfactory result of 384 points in the qualification stage and was on the 3rd position behind multiple Olympic medalist Olena Kostevych of Ukraine but ahead of double Olympic Champion Guo Wenjun from China who was placed 9th and World Champion Arunovic Zorana from Serbia who was placed 6th after the qualification stage.
The start to Heena's 'Final' was shaky. Heena shot a 9.3 followed by another 9.3 and slipped to 8th position after the first 2 shots. The previous experiences of this year was haunting her as was evident from the poor start.. But after the first 2 shots, Heena displayed rare excellence proceeding to execute flawless 15 consecutive bulls eye to end the competition with a huge lead of 5.2 points. At a world competition where only the top 10 shooters of that year are qualified to compete, even a margin of 0.5 seems to be a huge margin but winning with a lead of over 5 points is nothing short of humiliation for others and only showed the calibre of Heena Sidhu.
So high was her level of commitment and determination, that even after having reached the top position midway through the 'Finals', she did not let herself relax even once and kept adding to her lead. This new format of elimination is definitely more spectator friendly but adds more stress for the shooter. On the one side you had Heena shooting 10 after 10 and on the other side were Olympic and World Champions shooting 9s and 8s – looking like absolute novices.