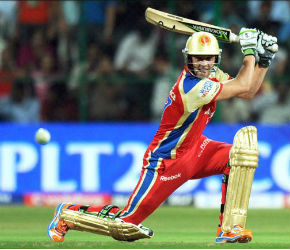 Royal Challengers Bangalore are all pumped up to take on Rajasthan Royals in their fifth home-match of this edition of Indian Premier League. Both the teams have good batting line-up with a decent bowling unit but it is going to be very interesting to see that how Chris Gayle and Virat Kohli bat against the likes of James Faulkner who has been very consistent with the ball. On the other hand, Ravi Rampaul would be looking to give some early blows by getting the opening duo of Ajinkya Rahane and Shane Watson out as soon as possible. Both the teams have some good fire power down the order in AB De Villiers and Brad Hodge who can tear apart any bowling attack with their aggressive stroke-play.
Here bring to you the player to watch out for the match between Royal Challengers Bangalore (RCB) and Rajasthan Royals (RR).

Royal Challengers Bangalore (RCB)
Chris Gayle: Gayle has not fired in last two matches and will be looking to come out with a boom against Rajasthan. He has that ability to make any boundary look smaller but for that he needs to avoid those unnecessary risks that he has been taking. He will be the most crucial player for RCB in the match against RR.
Virat Kohli: Kohli is in brilliant touch this season with the bat and with playing at his home-ground, he would be looking to continue his dominance. He scored terrific 65 in the last match but threw away his wicket at very wrong time which took the match to the super over.
AB De Villiers: He is the most versatile player in their batting line-up and can change the pace of the game very easily. He has that ability to wait for first 10 balls and then blast in next 10 balls with fours and sixes. He has that temperament to maintain his cool and composure in pressure situation which makes him a class player.
Jaydev Unadkat: Unadkat picked up two wickets for 24 runs in his four overs. He looks good but he needs to come up with variations in death overs otherwise he might go for plenty of runs which will surely hurt RCB.
Ravi Rampaul: Rampaul was not that effective in the last match but he did some fantastic bowling in super-over. He bowled four overs and went for 28 runs without picking up any wicket. He has not given early breakthroughs to his side till now but has that ability to bowl some fine yorkers in death over.

Rajasthan Royals (RR)
Rahul Dravid: He has played an instrumental role to keep the winning-momentum going for RR till now. His ability to take decisions with cool mind makes him an idol for his teammates. His decision of promoting Dishant Yagnik in last match gave his side a great boost which played a crucial role in beating Mumbai Indians.
Shane Watson: Watson has given some good starts to RR this season and is looking in much better touch. His ability to take on the bowlers in power play makes him the trump card for Rajasthan Royals. If he goes on, then it is not going to be easy for the bowlers to stop him.
Ajinkya Rahane: His unbeaten knock of 68 was simply stupendous in which he showed the blend of attacking shots and ability to steal those singles from under the nose of fielders. Rahane has played some sensible knocks this season and would be looking to carry on against RCB. His skill of batting till the last ball of the innings makes him look much more matured player.
James Faulkner: Faulkner was brilliant with the ball as he picked up three wickets for just 14 runs in his 3.2 overs. His all-round ability makes him a valuable asset for his team and his fielding is just like an icing on the cake for Rajasthan Royals.
Stuart Binny: Binny was the surprise package in the last match as he picked up two wickets for just 14 runs. His ability to take-off the pace of the ball makes him much more lethal. He has that habit of keep nagging the batsmen with fuller length deliveries in death overs which got him those wickets in last match.
By Amit Chopra
Indian Sports News Network