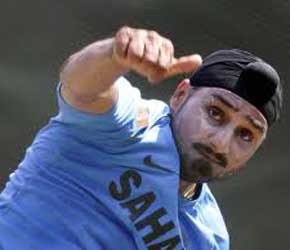 Ever since the team for the England series has been announced, lot of questions have been raised over the selection of Harbhajan Singh into the squad.
Harbhajan has been included in the team as the third spinner and since then critics have been raising questions, asking about the grounds on which he got selected to the team.
Harbhajan last played a Test against England in July 2011 and since then he has just played a few county matches for Essex and some first class matches in India.
His form has not been that bad since his exile from the national team and Bhajji has proved more than useful in his stint with the English side. Even in the last first class match that he played for Punjab, he bagged three wickets in the second innings, helping them beat Andhra Pradesh in the match.
And in the T20 World Cup that he played, he was exceptional against England and picked up four wickets to help India win the match. He was not that effective in the next match, but then his performances across different formats do make him eligible to get selected in the team.
It is quite obvious that the selection committee while considering Bhajji for the squad kept his vast experience in mind, alongside his recent performances.
He is India most successful off-spinner and a veteran of 98 Tests with 408 wickets to his credit. Harbhajan is a player of immense potential and has helped India win many matches with his performances and no way could the selectors have kept such a player out of the squad from a high profile series like this.
Playing against teams like Australia, England and South Africa, it is always experience that matters more than form and it has been seen in the past. Ravichandran Ashwin, India's first option spinner for quite some time could not do much in England and Australia last season.
It is not that Ashwin does not possess the skill to bowl against them, but it was his inexperience that came in his way of success.
Every player goes through a bad phase in his career and Bhajji also went through the same. But then it does not mean that he cannot make a comeback and be the lethal force that he was. Past has been proof to the fact that whenever players with such experience made a comeback, it turned out to be successful.
He already made a grand comeback with his four wickets haul in the T20 World Cup against England and his recent performance and confidence gives an indication that he is ready to roar again.
Neither Ashwin nor Pragyan Ojha can match up to the experience that he has and playing a Test series in India without Harbhajan is something unthinkable.
He might not be an automatic choice in the team with Ojha and Ashwin already there, but then both these spinners will be hugely benefitted by his presence in the dressing room. If not in the first Test, somewhere down the lane he will surely get a chance to play because even skipper Mahendra Singh Dhoni knows his importance in the series and player of his stature can't be kept out for long.
His selection into the side can be said more due to experience and if that it is so be it, because he has done enough for Indian cricket to earn that status where his experience is enough to earn him a Test spot, kept aside his form and performance.
By Indian Sports News Network