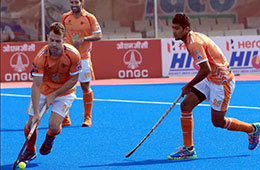 Bhubaneshwar: Bhubaneshwar, the capital city of the state of Odisha, is all set to host the opening match of the 4th Coal India Hockey India League between the home favourites Kalinga Lancers and Uttar Pradesh Wizards. The six team annual franchise based hockey league, the flagship event of Hockey India - the apex body governing the sport in the country and sanctioned by the International Hockey Federation (FIH) is scheduled to be played across six venues in India from 18th January - 21st February 2016. A grand opening ceremony has also been planned where cultural performances depicting the folk culture of Odisha will be seen.
Uttar Pradesh Wizards, led by star drag flicker VR Raghunath will take on hosts Kalinga Lancers led by Star German midfielder Moritz Fuerste in the opening match tomorrow at the Kalinga Stadium, Bhubaneshwar. Both the teams have been training hard to ensure the best results. Kalinga Lancers, under the coaching of star Australian Mark Hagger have been putting in extra efforts to give a lot to rejoice for the local audience. The ex-Olympian is lending his services as a coach for the first time in the Coal India Hockey India League. The team has been playing practice matches against local teams and all the players seem to be in great comfort playing with each other.
Ahead of the important clash, Mark Hagger, Head Coach, Kalinga Lancers said, "We have a good team and the boys over the last one week have really gelled in well, which adds to our advantage. Having said that we cannot underestimate the opponents specially when their team consists of experienced national and international stars. We are working hard and are hopeful that will leave a big smile for our fans in Bhubaneshwar post our game tomorrow."
The Uttar Pradesh Wizards who have been in Bhubaneshwar for the last three days look to be in great shape without any major injury scares. The UP Wizards consists of stalwarts like Jamie Dwyer from Australia and star internationals like Tobias Hauke from Germany, Gonzalo Peillat from Argentina along with acclaimed Indians like PR Sreejesh, Akashdeep Singh and Captain VR Raghunath. This year would also mark the debut season of Roger Van Gent as the head coach of the UP Wizards.
"We are working hard and are not leaving any stones unturned to see a bright start to our campaign. The boys seem to be in great shape and are comfortable playing with each other. There are no injury concerns within the team and this will allow us to test new combinations, "said Roger Van Gent, Head Coach, Uttar Pradesh Wizards.
The Kalinga stadium which will be the host to the opener has a capacity of 5000 and is ready to witness a full house on the opening day.