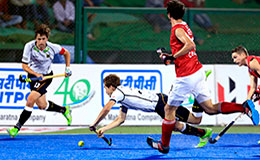 Raipur: Olympic champions Germany cruised to an 8-3 win over Canada's Red Caribous to end a disappointing Hero Hockey World league Final campaign on a positive, crowd-pleasing note in Raipur, India.
The result means that Germany finished the competition in seventh place, with Canada in eighth.

Christopher Rühr scored twice inside the opening four minutes to put Die Honomas in charge, with Moritz Fürste, Niklas Wellen and Lukas Windfeder taking the score to 5-0 before Gordon Johnstone pulled a goal back just before half time.
Matthew Guest and Scott Tupper found the target after half time to make the score 5-3, although any thoughts of a comeback were ended thanks to a trio of German goals, with Florian Fuchs, Olver Korn and Constantin Staib completing the match scoring.

Hero Man of the Match: Christopher Rühr (GER)