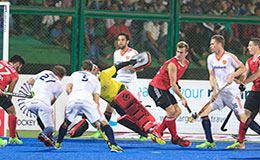 Raipur: Defending champions Netherlands became the first team to qualify for the semi-finals of the Hero Hockey World League Final 2015, but were given a stern test by a Canada team that produced their best performance of the event in Raipur, India.
Canada's Red Caribous made life extremely difficult for the European champions, who eventually emerge victorious with a 2-0 triumph thanks to goals from Constantijn Jonker coupled with a late strike from Roel Bovendeert. The Canadians had numerous chances of their own, but could not find a way past Netherlands goalkeeper Pirmin Blaak.
The Netherlands will face the winner of tonights quarter final meeting between Australia or Germany in the semi-finals, while Canada will play in the 7-8 classification game.
"The Canadians did very well out there, and I am very happy with the win because they had some good opportunities and our goalie was amazing today", said Netherlands star Seve van As. "They are a tough team and they deserve to be here at the Hero Hockey World League Final, so I am really happy that we won."
Canada goalkeeper Antoni Kindler said: "We are definitely more pleased with the performance today than in the last couple of games, but ahead of the match we talked about giving ourselves the best possible chance of winning this one. We had a lot of belief out there but we didn't take our chances and ultimately that is what cost us. It is definitely work in progress, and we are looking forward to building towards the Rio Olympics."
Hero Man of the Match: Mark Pearson (CAN)