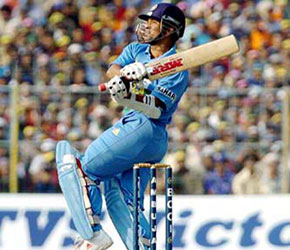 Sachin Tendulkar has announced retirement from one-day cricket and even though the decision was inevitable, it has come as a real surprise. Such is a stature of this man that no one ever expected this man to go. He has been a hero for almost three generation and even though he was not playing too many one-dayers, he will be missed.

It was the re-assuring feeling for every cricket fan that during tough times in 50 over cricket Sachin will step out and will bail the team out of trouble. It happened in the World Cup and people expected it to continue. But now it's over, Sachin will not play 50 over cricket anymore.
Sachin played 463 one-days, scored 18,426 runs including 49 centuries and 96 half-centuries. All these stats are world record and that shows the influence this man have had on this form of the game.

Sachin has been a great player and has played many greats innings and choosing the best five is almost an insult to the great man, but let's give it a shot…

200 against South Africa at Captain Roop Singh Stadium in Gwalior/ 24-Feb-2010

Sachin Tendulkar became the first batsman to reach the 200 mark in one-day international after this inning. Sachin thrashed the likes of Dale Steyn, Charl Langeveldt and other South African bowlers all round the park. He scored an unbeaten 200 in only 147 balls, his innings included 25 fours and three sixes.

143 against Australia that got India in the finals / 22-Apr-1998

In this match India needed 284 runs to win and 254 to qualify for the finals for the Sharjah Cup. In this inning Sachin single-handedly took India to the finals. He in this inning played 131 runs and hit 9 fours and cleared the boundary five times. Wickets kept falling at one hand and Sachin took in on himself to take India into the final.

134 against Australia in Sharjah in the finals / 24-Apr-1998

The match was played on Sachin's 25th birthday and with his innings he ensured that they day belongs to himself. Sachin on the back of his hundred that took Iindia to the final came in to bat and played one of his best innings. India was chasing a stiff target of 273 runs and lost Ganguly early in the innings. Sachin played a blistering knock in which he hit 12 boundaries and three sixes.

139 against Australia in Indore/ 31-Mar-2001

Sachin with this century reached the 10,000 landmark. Sachin in this innings hit the likes of Glenn McGrath, Sharne Warne and Fleming to every part of the ground. He hit 19 boundaries in his innings and helped India to post a total of 299. It was 28th hundred and is still considered as one of his best.

110 against Australia at the Premadasa Stadium in Colombo in the Singer Cup/ 8-Aug-1996

This was the beginning of the greatness that followed. Sachin took 78 matches to score his debut hundred and it came in a do or die encounter, India won the match and went on to win the series. The first ODI hundred by this man showed the world what's in the waiting.
do share with us your favorite..
Indian Sports News