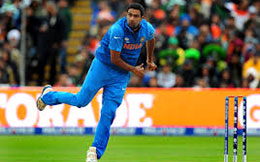 In the recently concluded India Sri Lanka T20 Series, Ravichandran Ashwin was the stand out performer, especially in the decider, when he took four for eight as Sri Lanka was bowled out for its lowest-ever T20I total of 82. For his efforts, Ashwin has earned 73 points, which has now put him just eight points behind number-one ranked Sunil Narine on the MRF Tyres ICC T20I Bowler Rankings.
Sachithra Senanayake of Sri Lanka is not too far behind as he has moved ahead of Shahid Afridi into third position.

Ravindra Jadeja has gained an impressive nine places, allowing him to break into the top 10 for the first time in his career. The left-arm spinner is in ninth position.
Amongst the batsmen, Aaron Finch has reclaimed the top spot from Virat Kohli who was rested from the series, while Shikhar Dhawan, the top scorer in the series with 106 runs, has gained 31 places to claim 56th batting position, Suresh Raina has moved up a spot to 12th, Chamara Kapugedera has risen 14 place up to 84th.
In the all-rounders' list, Suresh Raina has gained five spots to enter the top 10, while Yuvraj Singh has retained his 7th position. Shane Watson, Shakib Al Hasan, Shahid Afridi and Mohammad Hafeez have ensured the top four spots remain unchanged.
MRF Tyres ICC T20I Rankings (as of 15 February, after the India-Sri Lanka series)

Batsmen (top 10)

Rank (+/-) Player Team Pts Ave HS Rating
1 (+1) Aaron Finch Aus 868 41.61 892 v Ban at Mirpur 2014
2 (-1) Virat Kohli Ind 840 50.62 897 v Eng at Edgbaston 2014
3 ( - ) Alex Hales Eng 795 34.71 866 v Ind at Edgbaston 2014
4 ( - ) F du Plessis SA 758 39.28 843 v Ban at Mirpur 2015
5 ( - ) M Guptill NZ 741 34.70 793 v SA at Hamilton 2012
6 ( - ) K Williamson NZ 733 36.69 737 v Pak at Hamilton 2016
7 ( - ) Chris Gayle WI 703 35.15 831 v Aus at Colombo (RPS) 2012
8 ( - ) H. Masakadza Zim 699! 31.42 699 v Ban at Khulna 2016
9 ( - ) M. Shahzad Afg 681! 30.86 681 v Zim at Sharjah 2016
10= Shane Watson Aus 665 28.58 831 v SA at Colombo (RPS) 2012
Bowlers (top 10)

Rank (+/-) Player Team Pts Avge Econ HS Rating
1 ( -) Sunil Narine WI 773 17.75 5.69 817 v Pak at St. Vincent 2013
2 ( - ) R Ashwin Ind 765! 21.61 6.93 765 v SL at Visakhapatnam 2016
3 (+1) S Senanayake SL 675 19.33 6.35 712 v Eng at The Oval 2014
4 ( -) Shahid Afridi Pak 672 23.90 6.60 813 v SL at Colombo (RPS) 2009
5 ( - ) G Cremer Zim 669! 16.59 6.72 669 v Ban at Khulna 2016
6 (+1) M McClenaghan NZ 643! 25.80 7.68 643 v Pak at Wellington 2016
7 (+1) Imran Tahir SA 641* 15.77 6.45 675 v WI at Johannesburg 2015
8 (+1) Dawlat Zadran Afg 636! 18.83 7.35 636 v Zim at Sharjah 2016
9 (+9) Ravindra Jadeja Ind 632! 30.72 7.06 632 v SL at Visakhapatnam 2016
10 (+1) Shakib Al Hasan Ban 622 20.96 6.71 672 v Pak at Mirpur 2014
All-rounders (top five)

Rank (+/-) Player Team Pts HS Rating
1 ( - ) Shane Watson Aus 363 557 v SA at Colombo (RPS) 2012
2 ( - ) Shakib Al Hasan Ban 348 408 v Pak at Mirpur 2015
3 ( - ) Shahid Afridi Pak 330 413 v NZ at Dubai 2009
4 ( - ) M Hafeez Pak 302 440 v SL at Dubai 2013
5 (+1) Marlon Samuels WI 282 321 v SL at Mirpur 2014